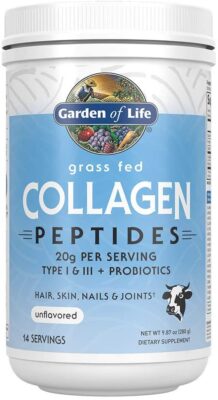 I've been planning to add Collagen to my daily supplements, so this is great timing! Click here to save up to 30% off Biotin and Collagen from Garden of Life, Nature's Bounty and more. Collagen makes up 30% of the body's protein; it gives structure to very important tissues such as skin, muscles, bone, hair, tendons and cartilage. As we age, the body's ability to make collagen diminishes significantly starting at around age 30. This new line is designed to bring clean, high quality, absorbable collagen to consumers, for skin elasticity, strong hair and nails and for joint support and mobility.† This Garden of Life Grass Fed Collagen Peptides Powder – Unflavored Collagen Powder for Women Men Hair Skin Nails Joints, Hydrolyzed Collagen Protein Supplements, Post Workout, Paleo & Keto, 14 Servings is only $12.75 (or even less if you select the Subscribe & Save coupon). 
PROMOTES SKIN, HAIR, AND NAILS: Hydrolyzed collagen powder with 18g of protein to support skin elasticity, strong nails and healthy hair for maximum benefits; Help reduce signs of aging with this beauty hair and nail supplement; Perfect for men and women

PROVEN JOINT MOBILITY SUPPORT: These bovine peptides feature essential amino acids and branched-chain amino acids BCAAs, both vital and primal in supporting healthy cartilage, maintaining joints, ligaments, mobility and flexibility in tendons and tissues

SUPPORTS GUT HEALTH AND DIGESTION: 1.5 Billion CFU probiotics for digestion, hydrolyzed with enzymes which break the collagen down into its amino acids for best absorption, from the digestive tract into the bloodstream; Highly bioavailable to the body

20g EASY TO USE COLLAGEN: Dissolves quickly, soluble in hot or cold liquids; Add to smoothies, coffee, tea and shakes, or mix with water or almond milk – comes with a scoop included; Perfect for many food recipes, in your kitchen or on the go

CLEAN & PURE COLLAGEN PEPTIDE: Our tasteless Collagen Supplements are sustainably sourced from cows that are pasture raised to a strict standard; Proudly Third-Party Certified, tested to back every claim – Non-GMO Tested, NSF Gluten Free, Keto and Paleo
This post contains affiliate links.