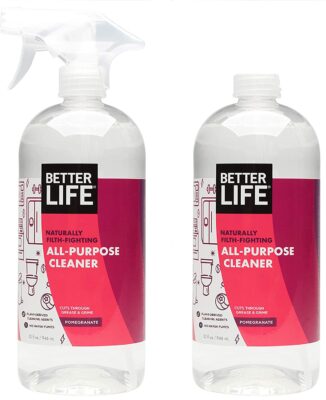 Looking for a better way to clean? Today only, save up to 30% off Better Life Household Cleaners. With every spray, pour, and pump, BETTER LIFE proves that a powerful cleaner can be safe around kids and pets*, and gentle on the planet. Our naturally filth-fighting all-purpose cleaner with pomegranate, grapefruit, and lavender packs a punch! Get this Better Life All-Purpose Cleaner, Pomegranate, 32 Fl Oz (Pack of 2), Pomegranate, 64 Fl Oz for only $9.74. 
100% plant-derived cleaning agents from soap bark, coconut, and corn

Cuts through grease and grime

Effective on toilets, countertops, appliances, upholstery, baseboards, walls, floors, tables, showers, boats, cars, sporting equipment, toys – whatever! Any water-safe surface or upholstery marked "W" or "W/S"

No alcohol, No petroleum solvents, No dyes, No parabens, NO SLS/SLES

Cuts through grease and grime

Please note: one sprayer is included with two-packs. Please keep your sprayer and reuse it for the second bottle (simply remove the sprayer from the first bottle and apply to the second).
This post contains affiliate links.