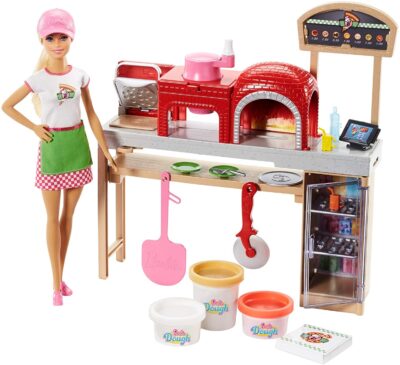 Today only, save up to 30% off Barbie Toys. You'll find lots of great gifting options including Musician Barbie, a Barbie Glam Getaway House, and Made to Move Barbie! This one is so adorable, especially for little ones who love play dough and Barbies! Click here to score the Barbie Pizza Chef Doll and Playset [Amazon Exclusive] for only $20.59. 
Cook up fun with a pizza play set that comes with Barbie doll, an oven with creative working features and all the ingredients to make, "bake" and serve pizza, including three different colors of dough!

Use the included dough -white, beige and red -to create pizza in a few, easy steps: place the beige and red dough into the pizza press and flatten for the pizza crust and sauce; move it along the conveyor belt by sliding the lever to the next station; fill the toppings shredder with white dough and turn the hand crank to sprinkle "cheese" onto the pizza; then slide the lever again to move the pizza into the oven!

When it's "baked" long enough, slide it out with the pizza slider and cut it up with the slicer!

Use the spatula to serve slices on the 2 green plates or send the whole pie out in a pizza box!

Take orders and payment at the register that sits on the counter under the menu.

Store accessories in the shelf below the conveyor belt or the mini-fridge below the counter -the door opens and closes!

Play out all kinds of stories with Barbie doll dressed as a pizza chef with a pizza decal on her shirt and a classic pink and white check print on her skirt. A pair of pink shoes, a pink cap and a green apron complete the look.
This post contains affiliate links.