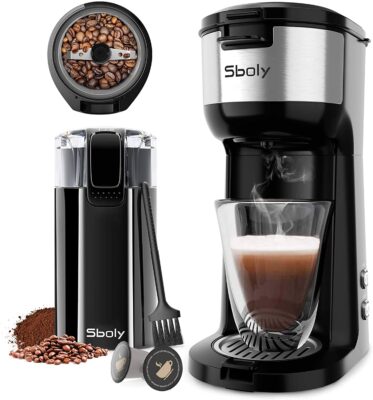 Today only, save up to 29% off Sboly single-serve brewers and coffee machines. Prices start at just $17.59! Check out this Sboly Single Serve Coffee Maker with Grinder for only $49.99 (pictured above)! See the full selection here. 
Dual Coffee Maker – Choose with no stress and enjoy what tastes best! The Sboly coffee maker is compatible with K-Cups as well as all forms of ground coffee fresh or store-bought. Easily shift between ground coffee and capsule with the removable coffee basket and holder. Not only can you enjoy your favorite coffee grounds anyway you like but thanks to the quick heating technology you can enjoy your favorite cup of coffee and 3 minutes or less.

Powerful Coffee Grinder – Sboly's Electric Coffee Grinder with a 150W motor is powerful and offers grinding speeds as high as 21000r/min. You get a consistent grind size, which is the most important thing when it comes to brewing coffee, and control over the extraction, so you can tinker with it until you find what tastes good. It's simple to use and super-consistent with a the stainless steel blade that consistently helps to preserve the original rich aroma and oils.

Easy to Use – One-button operation for grinding and brewing.The Sboly coffee grinder's clear lid allows you to view the one-touch control grinding process letting you can easily adjust to whatever coarseness or fineness you're looking for. If you want good coffee in your kitchen, you're going to need a good coffee grinder choose the Sboly single cup coffee maker with the simple one-button feature. Good coffee never takes a vacation!

Easy to Clean – Designed to offer you mess free and stress-free coffee enjoyment. Sboly coffee machine just need simply press two buttons and the cleaning & descaling is conveniently and quickly taken care of for you. Sboly electric blade coffee grinder with a brush for easy clean.It's easy to use, easy to clean, and is a worthwhile investment if you want to dramatically improve the quality of your coffee at home.
Remember, Amazon prices can change at any time.
This post contains affiliate links.