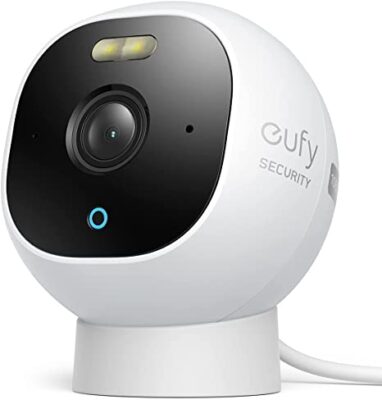 Prioritize your family's safety WITHOUT breaking the bank! Click here to save up to 27% off EufyHome Surveillance Cameras and Deadbolts, today only. Your privacy is something that we value as much as you do. To start, we're taking every step imaginable to ensure your data private, with you. Whether it's your newborn crying for mom, or your victory dance after a game, your recorded footage will be kept private. Stored locally. With military-grade encryption. And transmitted to you, and only you. That's just the start of our commitment to protect you, your family, and your privacy. Snag this eufy Security Solo OutdoorCam C22, All-in-One Outdoor Security Camera with 1080p Resolution, Spotlight, Color Night Vision, No Monthly Fees, Wired Camera, Security Camera Outdoor, IP67 Weatherproof, only $55.99 today!
Security Under the Spotlight: The powerful built-in spotlight illuminates the surrounding area when relevant motion is detected. It also ensures that you can keep an eye on any spot in full-color, even in low light.

Subscription-Free Security: On-device storage ensures maximum security and worry-free surveillance with zero monthly fees.

Flexible Installation: The Magnetic Mount and 20-foot cable allows you to easily install the outdoor security camera anywhere on your property.

Secure in Extreme Weather Conditions: With an IP67 weatherproof-rating, OutdoorCam boasts greater protection against the elements than any of its competitors.

Powerful On-Device AI: Data is processed on-board the outdoor security camera, resulting in faster decision making and fewer external errors. The end result is more accurate detection and fewer false alerts.
This post contains affiliate links.