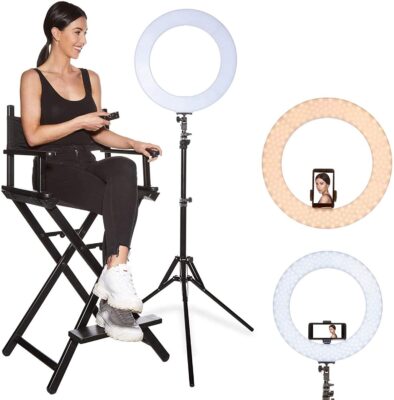 Wherever you are in the world—take professional, dynamic lighting with you! Portable, high quality and suitable for a range of professions, here's why Inkeltech is one of the leading suppliers of ring lights compared to other options on the market. Today only, save up to 24% off Inkeltech 18 in. Ring Lights.
Intelligent and quick color change – Inkeltech Ring Lights are controlled via the IR remote controller or the knob on the stand. Adjust the color temperature from 3000 K to 6000 K easily without using color filters. Achieve cold white light or warm light to hide blemishes and change skin tones quickly and easily. LED SMD design and 480 pcs LED beads on our Ring Light offers more light for your camera photography, live streaming, Facebook Live, beauty makeup, selfies and videos.

Selfie controller and IR remote – Take photos directly with our wireless selfie controller! Change the color temperature (3000-6000 K) and brightness (0%-100%) of the Inkeltech Ring Lights from up to 2.5 metres away (98 inches) with our IR Remote! You can select between 7 modes of lighting from the IR Remote including (a) Night Light Mode, (b) Warm Light Mode, (c) Cold Light Mode and others! With all these modes, you are bound to find the best light to suit your style.

Phone holder and light stand – Each Inkeltech Ring Light has a rotating (360 degrees) phone holder and a retractable tripod that effortlessly helps you capture different levels of brightness and angles of lighting! The phone holder is suitable for most smartphones including iPhone, Samsung and Huawei (2.5-3.5 in / 65-90 mm wide). The adjustable light stand range is 20-75 in / 50-190 cm. One bag carries the total weight (4.5 lbs) giving a lightweight and portable setup for outdoor shooting!

Use indoors and outdoors – Have a great deal of flexibility and power your Inkeltech Ring Light outdoors with batteries (SONY batteries only; not included)! The indicator light on the back of the stand shows your batteries status: (1) The indicator is off when the batteries are fully charged, (2) The indicator will flash red when the batteries will run out soon and (3) The indicator will flash when the batteries are about to run out. Alternatively, power your Ring Light by plugging it in indoors

Package includes – Inside of your package, you will receive: LED Ring Light Body (18 in / 46cm) x1, Tripod (20-75 in / 50-190 cm) x1, IR Remote Control x1, Selfie Controller x1, Phone Holder x1, Camera Holder x1, Power Adapter x1, Durable Travel Bag x1 and paper instructions for quick and easy setup.
This post contains affiliate links.