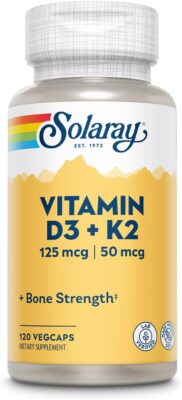 I've had good experiences with Solaray supplements and they are a great price today! Click here to save up to 23% off Solaray Supplements. A factor in yoru body's ability to absorb and use calcium, vitamin D is synthesized when your skin is exposed to the sun's rays. Perfect for times of little sunlight, Solaray's Vitamin D-3 + K-2 brings together the sunshine vitamin and the support your body needs to transport calcium. Our balanced blend is formulated to help support strong bones, healthy blood vessels, cardiovascular function and immune health. Click here for the Solaray Vitamin D-3 + K-2, Calcium Absorption, Bone Strength, Cardiovascular & Immune Function Support (120 Count) only $18.99. 
High Potency: Provides 125mcg (5000 IU) of Vitamin D-3 & 50mcg of Vitamin K-2 as Menaquinone (MK-7)

Synergistic Team: D3 & K2 work together to help absorb & transport calcium for healthy bone support

Heart Health & More: May help support healthy arteries, cardiovascular & immune system function

Eco-Friendly: Committed to a cleaner planet, we now use PCR recycled plastic bottles in our product

Trusted Brand: Made without soy & lab verified for the potency & purity of its ingredients
This post contains affiliate links.