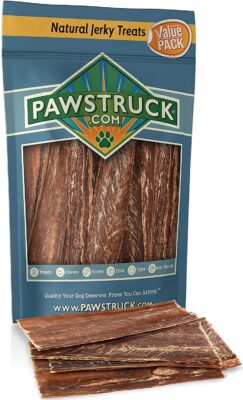 Paw Parents, check this out: save up to 22% off on Pawstruck Dog Treats and Supplies today only. At Pawstruck, we know that all dogs deserve to be happy and healthy. We don't care if your furball is a show dog or a shelter dog—our mission is to provide quality products to all dogs nationwide. As dog lovers and owners ourselves, we know what's best for your pup. We pride ourselves in providing the largest selection of meaty, single-ingredient chews, and continue to expand our catalog into other types of products that dogs and owners love. Get these Dog Jerky Treats (4″-6″ Strips, 15 Pack) Joint Health 100% Beef Chews – Bulk, Gourmet Gullet Straps – Naturally Rich in Glucosamine & Chondroitin – Promotes Healthy Joints by USA Company for only $10.35 today!
Natural & Healthy – These truly are the best beef treats for dogs and puppies. They are made from free-range, grass-fed cattle and No artificial ingredients and No chemicals. They are rawhide free, long-lasting, and packed with protein. A guilt-free snack bursting with flavor that your dog is sure to love. Our facilities are carefully inspected and approved to ensure clean, safe and healthy canine snacks.

Helps Clean Dog Teeth – Dog dental care is important. These natural puppy and dog dental bully jerky help to remove harmful plaque and tartar leading to improvements in overall dental health. Let your dog gnaw on these odorless xl dental treats and watch his teeth sparkle. You'll see that these jumbo chews are truly bark worthy and have little to no smell with lots of flavor. Junior's tail will be wagging in no time!

Promotes Joint & Hip Health – Not only will your dogs love the flavor and have fun chewing on these healthy treats, our jerky is packed with glucosamine and chondroitin to help improve and strengthen joints and hips. They're a wonderful alternative to supplements that keep your canines in tip-top condition.

Supreme Free-Range, Grass-Fed Ingredients & Sourcing – Our premium beef jerky for dogs and puppies are made in our South American facilities to ensure the healthiest and safest possible dog chews. Our processing plant adheres to the strictest of quality assurance standards. Additionally, our facilities are up to governing body and outside 3rd party USA standards leading to a superior product.

No Stinky Residue or Mess – Unlike many jerkies and meaty treats, our jerky is low odor and low mess. Our strips are made from a single beef muscle and have no excess grease or smell. The smell that remains is an enticing beefy one that your dog will go crazy for.
This post contains affiliate links.