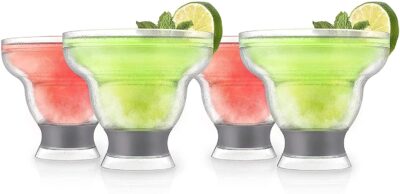 Cool off your summer when you save up to 21% off Drinkware from Host, Viski, Twine, and more. All too often, tepid temperatures and watery melted ice cubes come between you and a refreshing drink. So we invented a glass to fix that. Using a proprietary cooling gel, our FREEZE drinkware quickly chills any beverage (beer, wine, liquor, iced tea, cold-brew coffee) to its ideal serving temperature and maintains that temperature for hours. FREEZE cups have nothing to install or calibrate, and you never have to deal with watered-down drinks. Just sip and enjoy. Keep your cold drinks frosty with these Host Freeze Margarita Cooling Cups, Freezer Gel Chiller Double Wall Plastic Frozen Cocktail Glass, Set of 4, Grey, only $31.99 today.
KEEP YOUR FROZEN MARGARITAS FROSTY! – The Host Margarita Freeze cocktail glasses are engineered specifically for frozen cocktails and mixed drinks. Don't be left with a puddle of margarita mix, keep your slushies and more nice and crisp.

THE MAGIC IS IN THE GEL – The insulated plastic walls of these margarita cocktail glasses are filled with proprietary cooling gel. This works as a beverage chiller when frozen. Freeze for two hours to keep your drinks frosty.

COMFORT-GRIP SILICONE BAND FOR EASY SIPPING – The BPA-free plastic construction creates a sturdy margarita glass that is perfectly suited for outdoor use. An insulated silicone band on the base makes for comfortable handling, perfect for the outdoors!

THE PERFECT GLASS FOR A WIDE RANGE OF FROZEN COCKTAILS – Plastic construction with no-sweat silicone grips make this the best outdoor boozy slushie glass. Use at summer backyard barbecues, tailgates, and anywhere you need a cold drink on a hot day.

INNOVATIVE GIFT FOR THE MARGARITA LOVER WHO HAS EVERYTHING – This margarita glass set is great for any fun-loving cocktail enthusiast as gifts for mom on mother's day, outdoor cocktail set, and more. Great for anyone who loves fun and drinks in the sun.
This post contains affiliate links.