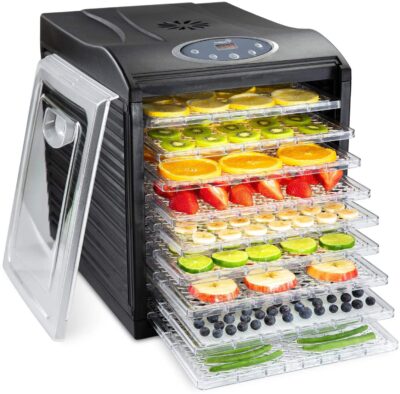 Today only, save up to 20% on Ivation Food Dehydrators – All Models and Sizes. The Ivation food Dehydrator enables you to serve your family, with delicious home-made, healthy, wholesome food and snacks that is high in nutrients and low in calories! Make delicious meat jerky, fish jerky, crunchy green beans & dried sweet potato sticks, banana chips or dried apples with cinnamon, or any Variety of Fruits, Nuts, Herbs, Vegetables, And Meats. Dehydrating foods on your own will help you avoid the numerous chemicals & toxins that are often added in commercial dried foods. Get the Ivation 9 Tray Countertop Digital Food Dehydrator Drying Machine 600w with Preset Temperature Settings, Auto Shutoff Timer and Even Heat Circulation for Beef Jerky, Fruits, Vegetables & Nuts for only $84.99 today!
Enjoy Homemade Easy Healthy Snacks,Without Additives or Preservatives, at a Fraction of the Cost of Commercially Dehydrated Foods

Perfect For Drying Fruit Slices, Long-Lasting Dried Herbs, Delicious Beef Jerky & More, Also an Economical Way to Preserve Foods

Rear-Mounted Fan Is Designed To Promote Even Drying with Optimal Airflow Without Overheating, and a Adjustable Thermostat with Automatic Shutoff Timer Ensures That Foods Are Dehydrated At Their Optimal Temperature and Crispiness

9 Spacious, (13" X 12") Adjustable Drying Racks Accommodate A Wide Variety Of Fruits, Herbs, Vegetables, And Meats, Great For Large Families, Gardeners, Sportsmen, Outdoor Hobbyists, Health-Conscious Enthusiast

Digital Thermostat has Eight Temperature Levels From 95º F To 158º F, Includes 1 Nonstick Fine-Mesh Sheet For Drying Small Food Like Herbs, 1 Solid Sheet For Making Fruit Roll-Ups, Overheating Safety Protection, Complies With US Electrical Safety Regulations ETL, Product Dimensions: 17.71 x 13.5 x 16.3 inch
This post contains affiliate links.