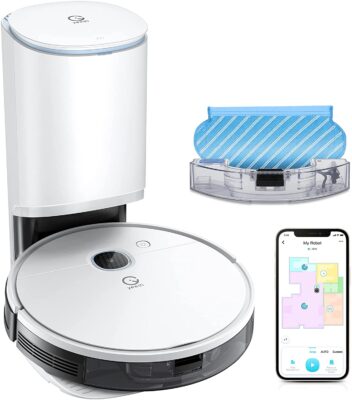 Click here to save up to 20% off Yeedi Robotic Vacuums. Yeedi vac station won't talk back for sure but it listens to and follows your words thanks to the compatibility with Amazon Alexa and Google Assistant. Start cleaning even when your hands are full. There are several models on sale today, including this yeedi Vac Station Robot Vacuum and Mop, Self-Emptying 3 in 1, 30 Days Auto Empty, 3000Pa Suction, Carpet Detect, Smart Mapping, Editable Map, Clean Schedule, Virtual Boundary, 200mins Runtime, only $399.99. 
【30-Day Hands-Free Cleaning】Forget about vacuuming and bid adieu to frequent smelly dustbin cleanings thanks to the self-empty station which automatically disposes dirt in yeedi's dustbin and holds up to 30 days of dust. No more sneezing or itching noses, perfect for family with pets and kids.

【Vacuum and Mop at the Same Time】yeedi vac station is versatile. It performs robust vacuuming and serious mopping at the same time with its industry-leading suction power and smart mopping system – leave your floor impeccably clean with a single run.

【3000Pa Invincible Suction for Mighty Pickup】 3000Pa strong suction power plus the 4-stage cleaning system sweep up dirt, crumbles, pet hair and other ground-in messes from hard floor and carpet like hurricane.

【Identify Your Floor, Clean Like Experts:】Equipped with cutting-edge carpet detection sensors, yeedi is aware of the know-how of floor cleaning – It vacuums with cranked-up suction power and avoids mopping when carpet is detected, and be quiet when on hard floor.

【Visual Mapping, Clean in a Neat Path:】It's time to upgrade the random and gyro robot vacuums who bump around, miss spots and take forever to clean. yeedi's visual mapping technology works seamlessly with a floor tracking sensor to trace your space like a GPS for efficient whole-floor cleaning in a split second, day and night.

【Editable Home Map】yeedi identifies your rooms and creates editable home map accordingly. Tap the map to choose a room to clean, and mark the targeted area you want yeedi to clean or steer away from by drawing up zones on the map as if you were painting on a graphics tablet.

【200mins Runtime, Auto-Recharge & Resume】 yeedi vac station runs up to 200 minutes on a single charge making it a reliable helper for big house cleaning. It returns to the charging dock for recharge when low on battery and resumes cleaning where it left off for a seamless and complete cleaning cycle.
This post contains affiliate links.