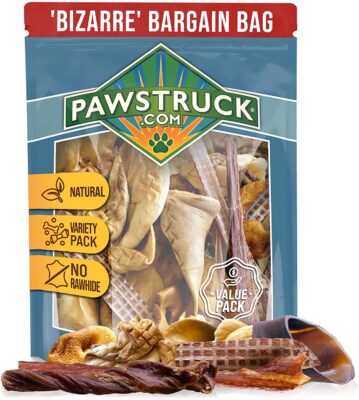 Save up to 20% off Pawstruck Bully Sticks and Bones. Dogs love our single-ingredient, minimally processed chews and treats made from grass-fed, free-range beef. No artificial ingredients, additives, or preservatives. Never sourced from China. Get this Bizarre Bargain Bag, Assorted Natural Dog Treats, Long Lasting Chews for All Breeds, Animal Ears, Bones & Jerkies for only $15.99 (that's a savings of $14).
Long Lasting Dog Chews Packed to Reduce Food Waste: The Pawstruck Bizarre Bargain Bag contains some of our most popular natural dog chews. Each bag contains top quality but slightly "imperfect" long lasting treats. The Pawstruck Bizarre Bargain Bag helps us achieve our goal of reducing our carbon footprint while still keeping your pup satisfied with our great-tasting treats. Our bargain bag is also reasonably priced so you don't have to break the bank just to give your fur kid satisfying chews.

Fun Assortment of Calming Treats for Adventurous Dogs: The Pawstruck Bizarre Bargain Bag contains a variety of rawhide free bones, grass fed beef sticks, and animal ears that are sure to keep your fur kid excited! With this variety pack no two bags of bulk dog treats are the same. Your fur kid will receive a fun mix of treats in every bag, making it the perfect treat for adventurous eaters and pups who do not have allergies.

Thoughtfully Formulated Dog Dental Chews: Our chew sticks, straps, and other treats are formulated with your fur kid's satisfaction and overall wellness in mind. Aside from being incredibly tasty, these non rawhide bones, animal ears, straps, and sticks boast a unique density that helps remove tartar & plaque buildup through the mechanical action of chewing. Pawstruck's satisfying dental chews for dogs are the perfect addition to your pup's oral care routine.

Natural and Low Fat Dog Treats: Pawstruck Bizarre Bargain Bags contain cow, and lamb ears as well as an assortment of jerkies, bones, and pizzle treats for dogs that are low in fat and high in protein. Our dog chew treats are made from carefully selected ingredients and do not contain chemicals, hormones, or additives. With our bizarre bargain bag, you can rest easy knowing your pup is getting a fun assortment of safe and great-tasting chews.

Dog and Puppy Treats Made with Your Fur Kids' Satisfaction in Mind: At Pawstruck, we're dedicated to giving your pup the best-tasting treats that are made from the safest premium ingredients in the market. If you have questions or concerns about our bizarre bargain bag, puppy chew treats, beef stix, or other natural dog treats, don't hesitate to reach out! Our team is always happy to answer all of your questions.
This post contains affiliate links.