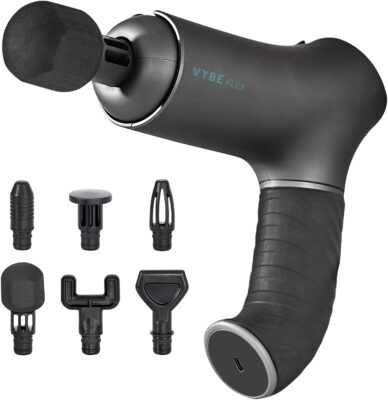 This is what we all need after surviving 2020! Today only, save Up to 20% off Massage Guns from Vybe and Exerscribe. 
EFFECTIVE: With 12mm deep tissue impact, it is designed to work out tension and break apart knots in muscle before and after intense workouts or throughout training. The deep tissue muscle massage gun provides a thorough, comfortable, and soothing recovery.

INTENSE: Includes 6 interchangeable attachments and supplies 3 different levels of vibration from 1800 up to 3400 rpm. This percussion back massager is designed to help relieve pain, activate muscle, improve performance, and enhance recovery.

COMPACT & QUIET: Carry case included. Our portable hand held massager gun also conveniently fits in a backpack or carry-on. The Vybe Flex deep tissue massager applies up to 25 lbs of soothing pressure.

VERSATILE: Ideal for athletes at every level, our handheld massager helps loosen tight muscles and ease joint stiffness. Take it to the gym, the local football field, out on a long hike, or have it ready at the finish line of a marathon.

COOL GADGET: For the person in your life that's always looking for the coolest, latest high-tech gadgets and gizmos on the market, this massage gun will make any tech-lover geek out.
This post contains affiliate links.