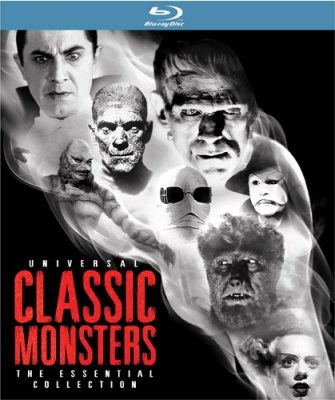 Planning a movie marathon for Halloween? Today only, get Universal Classic Monsters: The Essential Collection in Blu-ray for only $39.99! That's the lowest price ever for this collection.
"From the era of silent movies through present day, Universal Pictures has been regarded as the home of the monsters. Universal Classic Monsters: The Essential Collection showcases 8 of the most iconic monsters in motion picture history including Dracula, Frankenstein, The Mummy, The Invisible Man, The Bride of Frankenstein, The Wolf Man, Phantom of the Opera and Creature From the Black Lagoon. Starring Bela Lugosi, Boris Karloff, Lon Chaney, Jr., Claude Rains and Elsa Lanchester in the roles that they made famous, these original films set the standard for a new horror genre with revolutionary makeup, mood-altering cinematography and groundbreaking special effects. Featuring over 12 hours of revealing bonus features plus an exclusive collectible book, each film has been digitally restored from high resolution film elements for the ultimate classic monster experience."
This post contains affiliate links.