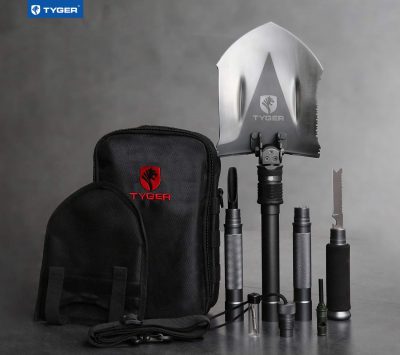 Here's a truly practical deal that anyone could use while camping, working outdoors, or when faced with an emergency situation! Today only, get the Tyger Shovel TG-SV8U3217 Military Heavyduty Folding Compact Tool with 16-in-1 Multifunction for Off-Roading, Camping, Outdoor, Survivalist and Emergency for only $71.20. Just take a look at the positive reviews!
Why TYGER ? US patent pending shovel forged from military grade solid carbon steel and aerospace grade anodized aluminum tubes, TYGER shovel sets the highest standards in the industry and is durable for lifetime!

Comes with unique instant switch mechanism. Simply pull the slider to switch modes in seconds. Fast and Sturdy!

16-in-1 multifunction for Off-roading, Camping, Hiking, 4-Wheeling, SUVing, Backpacking, Fishing, Disaster Recovery, Expeditionists, RV Camping, Cadets, Scouts, Military Personnel, Hikers, Camper, Hunter, Fisherman, Gardener, Survivalist, Gold Digger, Truck driver, Motorcyclist. Be prepared for any situation!

This compact shovel can be easily stored in your vehicle to help you dig out tires or break glass in emergencies. The included storage bag allows you to carry the shovel for any outdoor adventures.

TYGER No-Hassle Warranty !
 This post contains affiliate links.