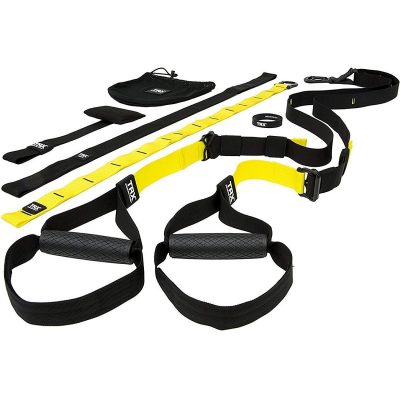 While on deployment, navy SEAL Squadron Commander Randy Hetrick created the first version of TRX using only a jiu jitsu belt and parachute webbing. Hetrick evolved this prototype into what we know today as the TRX Suspension Trainer, quickly capturing the attention of athletes, coaches and trainers. Today you can get this TRX PRO3 Suspension Trainer System for only $119.99. That's a savings of $79.96!
OUR MOST VERSATILE TRAINING SYSTEM! TRX's PRO3 Suspension Trainer Kit help you create intense full-body workouts Anytime, Anywhere! Features 3 Suspension Anchors, Ergonomic Suspension Strap Handles, Locking Carabineer, Pro-Trainer 8-Week Workout Guide & 8 Training Videos—Download our FREE TRX App for MORE INTENSITY RIGHT NOW!

INCREDIBLE RESULTS IN JUST 20 MINUTES! TRX gives you the power to hit fitness goals at home or on the go! Our digital workouts teach you EASY Core Strengthening Exercises that Rapidly Build Muscle, Burn Fat, Increase Endurance & Improve Flexibility—helping you take total control of your Health & Well-Being FAST!

TRAIN EVERYWHERE! TRX anchors to any door, rafter, beam, tree, pole or post in seconds that supports 350 lbs. Lightweight & Affordable, our PRO3 lets you train at home or in your hotel room—GET IN SHAPE FAST at sports complexes, parks and playgrounds too!

NEVER PAY PRICEY GYM & PERSONAL TRAINER FEES AGAIN! Our PRO3 needs NO weights, bars or other specialized fitness equipment to help you EARN Your Dream Body NOW! GUARANTEED to reinvigorate how you Look, Feel & Think—all while Saving Time & Money!

MOVEMENT-BASED TRAINING WHEN YOU WANT, HOW YOU WANT! Learn 7 Simple Foundational Moves fast that anyone can do: Push, Pull, Plank, Squat, Lunge, Hinge & Rotate against gravity while Flexing Your Whole Body into Perfect Shape… Then Hit NEXT-LEVEL INTENSITY by designing limitless workout routines—TRX helps you Achieve All Fitness Goals FAST!
This post contains affiliate links.