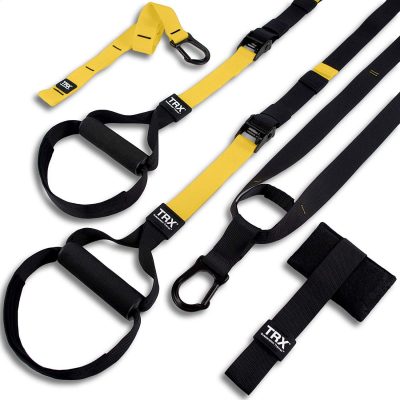 Start by learning the TRX's 7 foundational movements – push, pull, plank, lunge, hinge, squat and rotate – advance at your own pace into hundreds of exercises! It's time to transform yourself into your fitness best and to transform the way you look, feel and think! Get the TRX ALL-IN-ONE Suspension Training: Bodyweight Resistance System | Full Body Workouts for Home, Travel, and Outdoors for only $94.95 today!
OUR BEST-SELLING TRAINING SYSTEM! Create full-body workouts Anywhere, Anytime! Includes Suspension Training Strap, Indoor/Outdoor Anchors, 35-Page Workout Guide & 2 Bonus Workouts.

GET AMAZING RESULTS FAST! For ALL Skill Levels, ALL Health & Fitness Goals! Digital Workouts teach you to rapidly achieve incredible results: Build Muscle, Burn Fat, Strengthen Core, Increase Endurance & Improve Flexibility to Look & Feel Your Best!

MOVEMENT-BASED TRAINING is the Cornerstone of TRX's Training Philosophy. Practice, Refine & Master 7 Simple Foundational Moves: Push, Pull, Plank, Squat, Lunge, Hinge & Rotate. Develop limitless variations while Progressing at Your Own Speed!

WORKOUT ANYWHERE! TRX easily anchors to doors, rafters or beams at home OR anywhere outdoors to trees, poles or posts! Weighing roughly 1 pound, TRX Travels Light & Fast—and has even been Safety-Tested to Support Up To 350 Pounds of Resistance!

INCLUDES 6-MONTHS ACCESS TO TRX PREMIUM APP: Enjoy 6-Months of free access to the TRX premium app ($30 value) where you can explore a range of fast, fun and effective workouts for any level on your way to achieving your fitness goals!
This post contains affiliate links.