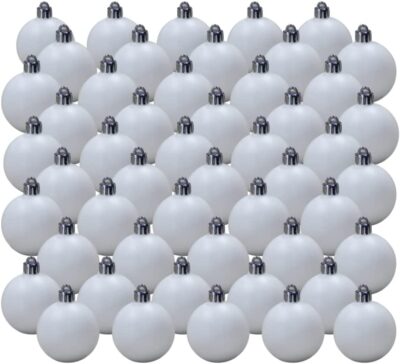 Save on Treemendous Christmas Tree Ornament Decorators today only!
TreeMendous Christmas Tree Ornament Decorating Refill Kit – Includes 50 Blank Ball Ornaments For DIY Craft Activities. Now each child can capture a moment in his childhood by decorating his own ornament and keeping it for a lifetime. Like many folks, I love the fun, family tradition of decorating our holiday tree. Then I thought to myself how much fun it would be if my kids could decorate their own ornament. Nearly two years, and multiple prototypes later, the Treemendous Ornament Decorator (sold separately) was born, providing kids ages 6 and up and adults of all ages, a fun way to decorate their own holiday ornaments! . This refill kit extends the decorating fun with family and friends. Includes 50 blank ornament balls. Ready to get your DIY on? Get this Treemendous Christmas Tree Ornament Decorating Refill Kit – Blank White Ball Ornaments for DIY Craft Activities – Compatible with Treemendous Tree and Gift Box Ornament Decorators (50 Pack) for only $31.99. 
TREEMENDOUS REFILL KIT- To be used with the TreeMendous Christmas Tree Ornament Decorator (Sold Separately) . Includes 50 blank ball ornaments.

PERFECT SIZED BOX PROTECTS YOUR ORNAMENT- Stores your handmade creations for years to come.

A FUN CRAFT ITEM FOR THE ENTIRE FAMILY- Once you have made the three ornaments in your Treemendous kit, you will enjoy refilling your Treemendous with our ornament refill kit so it can be used for DIY craft projects all year long

A PERFECT PRESENT TO GIVE TO YOUR CHILD – Perfect present giving for grandparents, teachers, friends, and family so you can all enjoy decorating together.

EASY TO USE- Once done decorating your ornament simply display for all to see!
This post contains affiliate links.