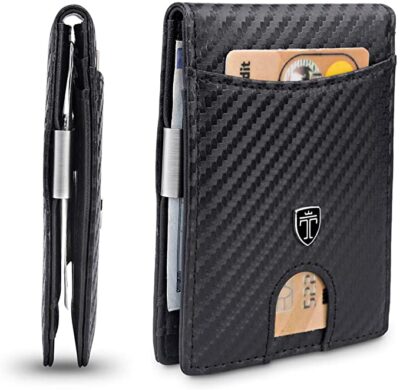 The slim wallet RIO presents itself in a modern way with high quality card slots and a money clip. The noble design is emphasized by the metal emblem. This elegant, slim wallet is designed to fit perfectly in any trouser pocket without bulging. Today's your chance to order this TRAVANDO Money Clip Wallet"RIO" – Mens Wallets slim Front Pocket RFID Blocking Card Holder for only $19.96. That's a savings of $15, wow!
RFID-Lining lining

Bifold closure

𝗙𝗨𝗡𝗖𝗧𝗜𝗢𝗡𝗔𝗟 & 𝗦𝗟𝗜𝗠 – Travando's Wallet offers 7 card pockets. The slim wallet is ideal for carrying business cards, credit and debit cards, bills etc.. The outside notch allows you to push out the cards easily

𝗜𝗡𝗗𝗨𝗦𝗧𝗥𝗬-𝗧𝗘𝗦𝗧𝗘𝗗 𝗦𝗘𝗖𝗨𝗥𝗜𝗧𝗬 – Tested by an independent German quality control institute. Our wallets block the 13.56 MHz band and protect against data theft by RFID scanners

𝗜𝗡𝗧𝗘𝗚𝗥𝗔𝗧𝗘𝗗 𝗠𝗢𝗡𝗘𝗬 𝗖𝗟𝗜𝗣 – The metal money clip allows you to clip several bills inside your wallet

𝗥𝗘𝗙𝗜𝗡𝗘𝗗 & 𝗦𝗧𝗬𝗟𝗜𝗦𝗛 – Designed in Germany to best combine elegance, quality and convenience

𝗦𝗟𝗜𝗠 𝗗𝗢𝗪𝗡 𝗬𝗢𝗨𝗥 𝗣𝗢𝗖𝗞𝗘𝗧 – We kept the dimensions of our slim wallet to 4.7" x 3.0" x 0.7". It will fit in your pocket perfectly without bulging out
This post contains affiliate links.