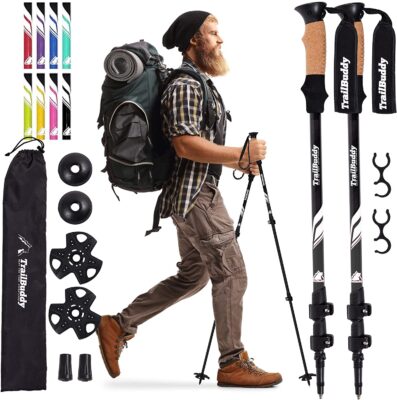 TrailBuddy Trekking Poles (TM) offer the best combination of durable strength and lightweight portability in a complete set designed for the trekker's comfort and ease of use. Why use trekking poles? 1. Reduce impact of trekking or walking on knees, back, and hips 2. Increase speed, balance, and security 3. Get more traction and points of contact, crucial on muddy or steep terrains 4. Great walking aid if recovering from injury or have balance issues 5. Other uses: – Can deflect shrubbery or act as probe for puddles, quicksand, etc – Defense vs bears, other wildlife – Can double as tent poles Additional advantages of Aluminum. Click here to snag the TrailBuddy Trekking Poles – Adjustable Hiking Poles for Snowshoe & Backpacking Gear – Set of 2 Collapsible Walking Sticks, Aluminum with Cork Grip, only $30.39 today!
Built to Last: Whether you're hiking on rugged terrain or snowshoeing on fresh powder, you need hiking gear that can keep up! Trailbuddy trekking poles are strong enough to withstand any weather condition.

Lightweight: These hiking poles are crafted with strong aircraft-grade 7075 aluminum, tougher than carbon fiber yet weighing almost 4oz less than your average trekking poles for hiking.

Adjustable: Set to your desired height in seconds, from the 54″ max height down to just 24.5″ when fully collapsed. They even double as hiking poles for kids!

Easy to Use: Our lever locks can be easily operated with just one hand, which is much easier than the 2-handed twist locks on other walking sticks for hiking.

Secure Hold: The padded straps and moisture-wicking cork handles will mold to the shape of your hand for a secure and comfortable grip on each walking stick. The threaded foot covers on our pole tips keep the included accessories securely attached, even in snow or mud.
This post contains affiliate links.