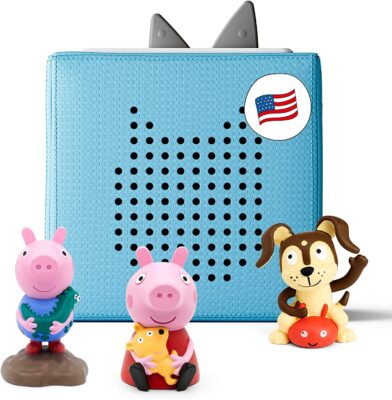 Tonies bring your family a screen-free, imagination-building experience, and each one brings new stories or songs! The included Playtime Puppy Tonie features some of the most popular songs for playtime, including Wheels on the Bus, If You're Happy and You Know It, and more! This set also includes a charging station to power your Toniebox battery (lasts up to 7 hours). Snag this Toniebox Audio Player Starter Set with Peppa Pig, George, and Playtime Puppy – Listen, Learn, and Play with One Huggable Little Box – Light Blue for only $79.99!
New and innovative audio player for kids 3+ that is great for bedtime stories, music, and education.

Screen-free listening experience that inspires your kids' imagination in ways that over-stimulating flashing screens do not.

Easy to use design that even the youngest children can operate independently.

Playback starts automatically when Tonies audio characters are placed on the Toniebox. Pressing the ears changes the volume. Tapping the sides changes tracks.

Bundle includes a light blue Toniebox, charging station, Peppa Pig, George, and Playtime Puppy Tonies. Additional Tonies can be purchased separately.
This post contains affiliate links.