Have you heard about TOMS One for One holiday deal? You buy one item from their line of deliciously simple shoes, clothes, and jewelry, and they donate one clothing item to poor people. The donated item maybe a shirt, blanket, or pair of shoes, among other items. What a cool gift for yourself or a friend!
==> Go straight to the TOMS One for One deal at Target
Buy TOMS for yourself (or as a gift), improve the world
There are some cute items in the One for One promotion that I heart. Santa, please take note! Not all items are available in all Target stores. Use our 10 tips to save more money at Target.
These kids shoes are stylish and comfy. Simple colors that go with a lot of outfits. Shoes $38 each.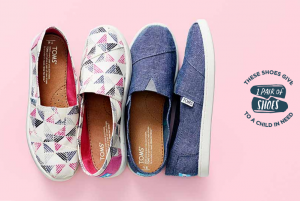 I'm a sucker for resuable tote bags, even though I already have 20+ from Envirosax. Use 'em for hauling crap daily. Bags $12 each.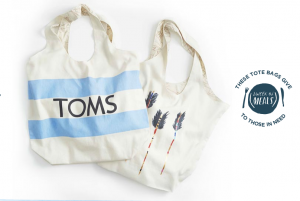 Especially love this chunky cozy endless scarf and bracelets. Living in New England, you need a lot of warm stuff! Scarf is $20. A set of three bracelets is $15 (great stocking stuffer!). Slouchy hat is $16. Marbled sweatshirt is $22.
This jacket would look fine on my husband, who grabs his fleece daily. Would be so nice to entice him into a hip jacket like this on a date nights out. He's often said he wants me to pick out clothes for him, but I'm not sure he means what he says. How you dress your man is another post, entirely! Jacket is $40.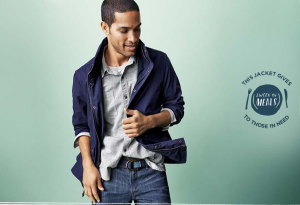 Like what you see? Shop TOMS One for One from Target.com
 and feel good about yourself.
Related posts
This post contains affiliate links. If you click on an affiliate link and make a purchase, I earn a small commission – at no extra cost to you. This helps support the site. Thank you for making blogging my full time job!