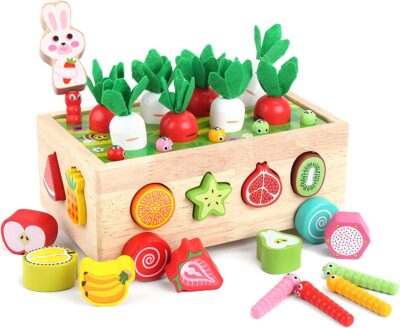 The Montessori wooden toy is pretty cute indeed, and it offers an excellent way for age 2-4 year old girls and boys to build fine motor skills to boot. Used The colourful worms and fruits to teach your kids about colours, counting, catching worms and shape matching. If your kids don't want to play, you can store worms, fruits, rabbits, and radish in the intelligence car until your toddler play again. Get the Toddlers Montessori Wooden Educational Toys for Baby Boys Girls Age 2 3 4 Year Old, Shape Sorting Toys Gifts for Kids 2-4, Wood Preschool Learning Fine Motor Skills Game for only $17.99.
【Montessori Toys for 2 3 4 Year Old】High-quality wooden toys include 12 fruit blocks, 8 carrots, 10 cute worms, and a five-sided cart with different shapes and structures. Furthermore, the wooden toy is large particles, polished edges, and non-toxic water-based paint, satisfying both baby's need for fun learning and the parent's wish for safety and quality.

【Kids Educational STEM Toys】The cute wooden farm toy can play pulling radishes, fruit recognition, shape matching, carts, color recognition, rabbit catch worms, storage, and sorting, which is a great toy for 2-4 year old girls and boys. A variety of game methods can make your baby happier.

【Fine Motor Skills】The Montessori wood toys are educational toys for 3-5 years old. The shape sort game can improve the fine motor skills for 2-4 year old baby, and the rabbit catch worms can training hand-eye coordination, and colorful fruit pattern blocks can improve color, shape, and fruit recognition.

【Happy Carrot Harvest Time】Invite the baby's friends to play carrot games, which really fun to play with, and your baby will spend hours playing on them, improving the friendship between the babies, and enhancing the parent-child relationship. Great preschool learning toys for 2 3 4 year old girls and boys.

【Creative and Cute Gifts】Montessori toys with colorful designs are a perfect gift for 2 3 4 year old babies boys and girls birthday, carnival, Christmas, and New Year Holiday. Come on, let us play carrot toy.
This post contains affiliate links.
Remember, Amazon prices can change at any time.