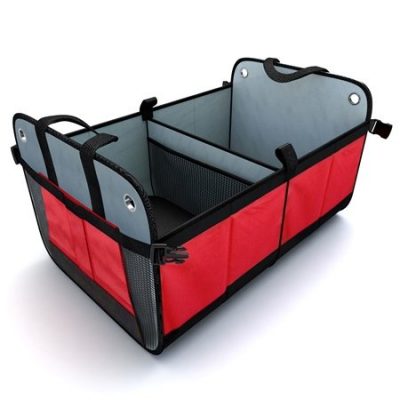 Lowest price ever on this Tidy Globe Collapsible and Foldable Auto Trunk Organizer! Get it right now for only $27.76 (reg. $38.84)! If you're determined to get organized in the new year, you might need this organizer! It's highly rated, with 5 out of 5 stars from 481 reviews.
TRIPLE REINFORCED POLYESTER and RUBBER BOTTOM cargo storage means it is waterproof and will not fall apart like all other cardboard bottom organizers. Strong thick nylon handles will NEVER tear or break like most other backseat bins.

PERFECT SUPER STRONG THICK STITCHING will ensure you can carry loads up to 50lbs without breaking, tearing or ripping. Carry groceries into your house without them spilling. Large load capacity. Load tools and sporting goods.

THICKER THAN BALLISTIC NYLON with rugged plastic side inserts. This interior container easily stands up on its own and can also be used for backseat storage. 23″x14.5″x12″

IT COULD NOT BE EASIER Simply unfold the organizer, push down the solid bottom inserts and instantly you have plenty of room to store anything you want to keep clean and organized in your CAR, TRUCK or SUV. More 5 Star Reviews than RoadPal, AutoArk, Trunk Crate, OxGord, and Starling's

LIFETIME WARRANTY 
This post contains affiliate links.