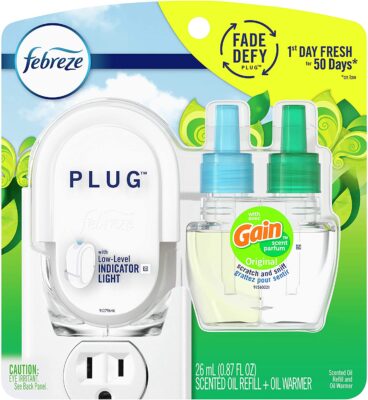 Free Febreze Plug-In at Walmart — Fill in your details here and you'll receive a coupon via text or email. All you need to do is show the barcode with your phone or print it off and redeem in store. This offer is valid through 12/31/22 or while supplies last.
Free Element Eight Skincare Sample — Click to choose your options and checkout for a free sample from Element Eight Skincare!
Free $10 Credit at Thredup — First time users at Thredup can save a bundle using this $10 credit link, plus stacking with coupon codes on the homepage make for really great deals. 
Free Subscription to Cosmopolitan Magazine — Click here to begin your free subscription to Cosmopolitan Magazine from Mercury Magazines, while supplies last. 
Free Food from Sprouts — First, download the app: Get it for iOS or Android. Then, in the app click the menu button and look for digital coupons. There you will be able to find coupons for Ardor Sparkling Water, Spero plant-based cheese spreads, Milton's Cauliflower Crust Pizza, Happi Foodi Chicken Keto Bowl, Miss Jones Baking Co. Mix, and FAGE Sour Cream.
Free Thanksgiving Dinner from Ibotta — Ibotta is offering cash back on a Thanksgiving Dinner. You will purchase the items, submit the receipts and get cash back! Click here for the details.
Free Book on Kindle from Amazon — Amazon First Reads gives you a chance for a free book each month (assuming you are an Amazon Prime member)! Click here to check out the selection. Make sure your total is $0 at checkout.
Free Bo's Chicken Sandwich at Bojangles — Register for a Bojangles account, download the app, and you'll receive an offer within an hour for a free Bo's Chicken Sandwich. 
Free Food item at QuikTrip — This is fun, because everyone gets a different food item. First, download the QuikTrip app for Apple iOS devices, or Android and login or register. Find the coupon section of the app, and click the Jollytown box to get your offer and it will be good for one week.
Free sample of L'Oreal Revitalift Derm Intensives 1.5% Pure Hyaluronic Acid Serum —  Visit this link and follow the prompts to request your free L'Oreal Revitalift Derm Intensives 1.5% Pure Hyaluronic Acid Serum, while supplies last.
Free Ornament Craft at Michaels — Michael's is hosting an Ornament Craft Day on November 6th. Check out the details and be sure to put in on your calendar.
Free 2023 See It Be It STEM It Calendar — Request your 2023 See it Be it STEM It Calendar by clicking here and filling in the form. Available for a limited time, while supplies last. 

Free National Park Pass for 4th Graders — Available for all 4th graders, parents/guardians and educators of 4th grade students, sign up here for your 4th grader's National Park Pass. 
Free Halloween Returns Album — Right now, get the Halloween Returns albums as a free download from Amazon Prime! 
Free Copyof the Jiffy Mix Recipe Booklet — Click here to request your free Jiffy Mix Recipe Booklet with new photos, tips, recipes and more!
Free Secrets of Magic: The Book of Spells PC Game Download — Snag this free download courtesy of Indie Gala! Click here for Secrets of Magic: The Book of Spells PC Game. 
This post contains affiliate links.