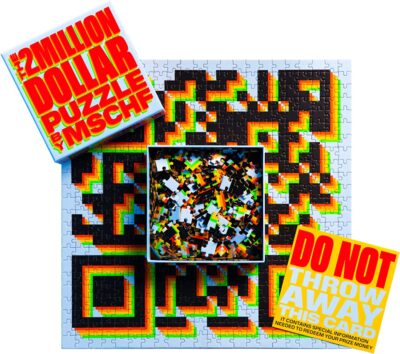 Here's a fun gift! Today only, get the The Two Million Dollar Puzzle by MSCHF – 500 Piece Jigsaw Puzzle for Adults, Last Day to Redeem 2/28/2024, Everyone is a Winner from $1 to $1 Million Dollars, Great Gift, Fun Family Activity for only $22.50. For rules, please see the Two Million Dollar Puzzle's website.
THE TWO MILLION DOLLAR PUZZLE: The creators of the One Million Dollar Puzzle bring you The Two Million Dollar Puzzle. Here is how it works: Buy this 500 piece jigsaw prize puzzle and complete for a chance to win up to 1,000,000 dollars. Last Day to Redeem 2/28/2024. NO PURCHASE NECESSARY. See below for rules.

EVERYONE WINS SOMETHING: You can either win or win! Winnings are between $1 and $1,000,000. Once you complete the puzzle, scan the QR code with your phone. Enter your secret prize code (found on the paper insert in your puzzle box) and learn what you've won!

SCANNABLE QR CODE PUZZLE: If you're having trouble scanning, try moving your device higher above the puzzle. Puzzles will still scan if a piece is missing or lost. Make sure there aren't bright reflections on the puzzle and that the puzzle is on a solid background. QR code's lines should be straight

CLAIM YOUR PRIZE: Fill out your information and select your payout method (digital check).

Amazon is not responsible for the collection, submission or processing of entries or the administration of the Game.
This post contains affiliate links.