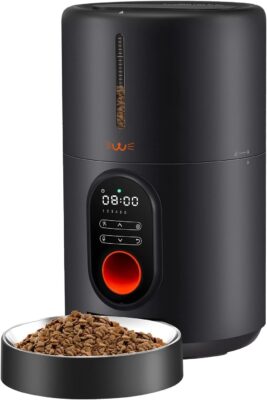 Use code 65FEEDER to take 65% off the Tetsbo Automatic Pet Food Dispenser, bringing the price down to just $23.10!
Flexible Meal Scheduling :This automatic cat feeders can schedule 1-6 meals per day and up to 8 portions per meal.You do not need to be worried that your pet will be hungry while you are away from home for several weeks. You and your pet will live a much easier life.

4L/17 Cups Large Capacity:This automatic pet feeder is equipped with a 4L food hopper, which can hold 17 cups (about 9lbs) of dry food. A full tank of dry food allows an adult cat to eat for about 28 days or a puppy for 10 days.

Voice Record Meal Call: The auto cat food dispenser allows you to record a 10s short voice message when it's mealtime to create a strong bond and makes your pets fed regularly, feeling safe with well cared even when you're absent.

Safe and Reliable Feeder: A desiccant bag and a fully-sealed locking lid not only keeps the food fresh but also prevents your pet from accessing stored food. The detachable design allows a thorough cleaning to reduce bacterial growth, makes your life easier and pets healthier.

Dual Power Supply: Besides power the dog feeder with a wired adapter, you can alternatively use 3 alkaline D batteries(not included in delivery) as a backup power source to ensure continued feeding in case of power outage.ensure your pet doesn't miss feeding.
Remember, Amazon prices can change at any time.
This post contains affiliate links.