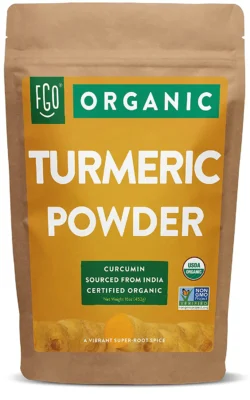 Click here to Save on Tea and Superfoods from FGOrganics!
Add some spice to your day with our organic turmeric root powder. This easily recognizable, vibrant yellow-orange powder has long been a staple in South Asian and Middle Eastern cuisines. Commonly used for curries, the root vegetable is also great in soups and stews, or sprinkled over some scrambled eggs. FGO sells organic, 100% raw turmeric powder from India in 8oz, 16oz and 32oz resealable bags. Get this Organic Turmeric Root Powder w/ Curcumin | Lab Tested for Purity | 100% Raw from India | 16oz/453g (1lb) Resealable Kraft Bag | by FGO for only $11.99. 
How did we get our start? Years ago we set out on a trip around the world where we experienced many cultures and their foods that supercharged us in a way we had never felt before. From there, we were inspired and motivated to bring these foods to others.
What makes our products unique? Our products are organic, non-GMO, and sourced from nutrient dense origins around the world. We don't think you should pay for products you don't love, so "love it or we buy it". But with more than 150,000 positive reviews, we hope you'll love it too.
Why do we love what we do? We love our 2 million+ customers and the input they share with us. It's exciting to source nutrient rich products and deliver them at fair rates so everyone can feel good.
This post contains affiliate links.