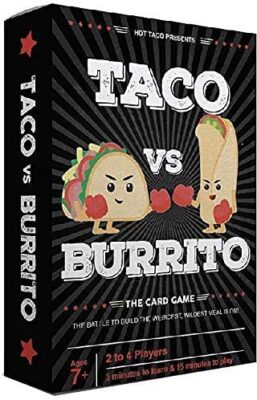 TACO vs. BURRITO is a deliciously unpredictable card game where players compete to create the weirdest, wildest meal. Created by Alex Butler, age 7, this game is easy to learn – and not so easy to win. Fun for (and play-tested by) all ages, TACO vs. BURRITO is the ultimate Game Night Food Fight! Click here for theTaco vs Burrito – The Wildly Popular Surprisingly Strategic Card Game Created by a 7 Year Old for only $15.99. 
WILDLY POPULAR ALL-AGES CARD GAME: TvB soared on Kickstarter, surpassing the initial goal by 2,400%! A sensation at the Indie Game Showcase at Emerald City Comicon!

SURPRISINGLY STRATEGIC: Basic gameplay is easy to master but the Action Cards shift the game into unpredictable territory. Exciting up to the very last card!

CREATED BY A KID, PERFECT FOR EVERYONE: Alex dreamed up TvB at age 7, but this crazy, fun strategic food fight is a smash with kids and adults alike! Ideal for ages from 7-77.

EASY TO LEARN AND QUICK TO PLAY: Takes only a few minutes to learn. Gameplay runs 10-15 minutes. Optimal for 2-4 players.
Remember, Amazon prices can change at any time.
This post contains affiliate links.