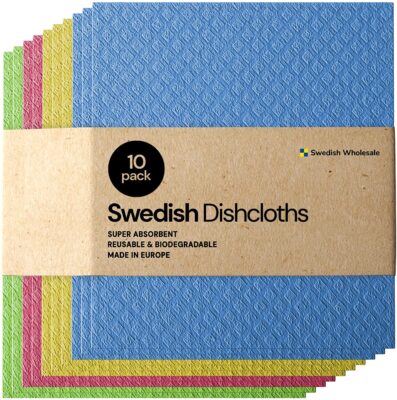 I love these for eco-friendly paper towel alternatives! Swedish dishcloths absorb 20X their weight and are perfect for wiping down any time of surface. Then, just wring out the water and repeat. Great for kids, dogs, and messy spouses. Clean up spills, splashes, and everything in between in no time. Get the Swedish Dishcloth Cellulose Sponge Cloths – Bulk 10 Pack of Eco-Friendly No Odor Reusable Cleaning Cloths for Kitchen – Absorbent Dish Cloth Hand Towel (10 Dishcloths – Assorted) for only $16.95!
Sustainable Cellulose / Natural Renewable Cotton

✔ SUPER EFFECTIVE CLEANING – 10 Pack Assorted Colors (8″ x 7") – Our Swedish dishcloths combine the benefits of a traditional hand tea-towel with the super absorbency of a cellulose sponge (our cloths absorb over 20x their weight!). Soft to the touch when wet, gritty enough for scrubbing when dry make our Swedish sponge cloth the best towel for your kitchen. Perfect for cleaning and scrubbing dishes, cups, mugs, tumblers, and cleaning countertops.

✔ WHOLESALE PRICING- With Swedish Dishcloth Wholesale you don't need to overpay for European dishwashing cloths. Our towels are sold in packs to lower the cost to you. Value + Premium Quality is what sets us apart. Sold in bulk packs of 10, each set should last you an entire year for all your cleaning needs and make the perfect paper towel replacement.

✔ ECO-FRIENDLY – Our eco-friendly Swedish Dish Clothes are dishwasher and washing machine safe for repeated use and less waste. Made from biodegradable cellulose and all natural cotton materials (70% Cellulose / 30% Cotton) Our Reusable Swedish dishcloths are not only more absorbent than a traditional cotton dishcloth but they last far longer. Soft to the touch, durable, and washing machine safe make Swedish washcloths the best towel for your kitchen.

✔ CUTE STYLE & GREAT GIFT – Most companies offer specific designs that may not work with your kitchen or home aesthetic. Our mid-century modern turquoise design adds a beautiful accent color to all types of kitchens and highlights your style on first sight. The cute, minimalist designs make a great eco-friendly, vegan gift idea or sponge alternative!

✔ MONEY BACK GUARANTEE – Our number one priority at Swedish Wholesale is customer satisfaction! If you aren't happy with your dishclothes we offer a no questions asked, 100% money back guarantee.
Remember, Amazon prices can change at any time.
This post contains affiliate links.