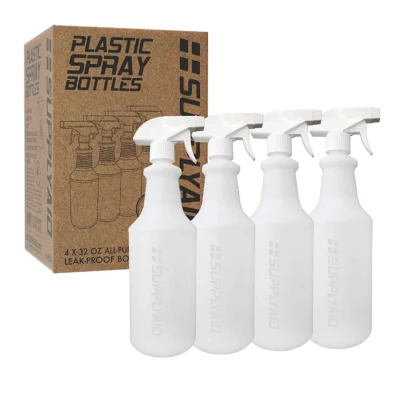 This essential set of four, 32oz plastic spray bottles are fantastic for both home and commercial use. The adjustable spray nozzle coupled with the original 100% no-leak mechanism will set off your cleaning or gardening tasks to a perfect start. Buy economy sized liquid cleaning products in bulk for less and decant the contents into these trusty home use bottles. The 32 ounce capacity plastic spray bottle is perfect for all natural household looking to create their own cleaning recipes for a healthier home. Try a homemade drain cleaner or air freshener, dusting spray or furniture polish! Keeping a few labeled bottles handy around the house enabling you to use for DIY cleaners to clean windows, mist plants, or spritz over bread dough before baking… whatever it is you decide to fill these bottles with, you are sure to get hooked! BPA Free. Get the SupplyAID RRS-PSB32-4 HDPE Heavy Duty Leak Proof, Plastic Spray Bottles, with Adjustable Non-Clogging Nozzle, For Commercial, Industrial, Household and Gardening Use, Measurements in Ounces for only $5.91.
ADJUSTABLE NOZZLE: From a spray to a solid stream, the sprayer can be easily adjusted to suit your needs. Be prepared to tackle any job with a simple twist of the nozzle! Avoid waste with our extra-long tube that'll spray every last drop out!

CHEMICAL RESISTANT: The heavy duty 32 oz (about 900 ml) plastic spray bottle is chemically resistant to hold up against harsh chemicals and solvents.

UPGRADED SPRAY HEAD & LEAK PROOF: Our sprayer features a long lasting polypropylene spray head, tight and secure cap closure, internal cap gasket, 302 stainless steel spring and a precision valve and piston, for a no clog and no leak experience; A proven and reliable no leak venting system primes quickly and stays primed.

HOUSEHOLD-COMMERCIAL-INDUSTRIAL USES: Our plastic spray bottles have multi-purpose uses. Use them for cleaning solutions around the house, pet, cat, lawn and garden, misting and watering plants, succulents, herbs, ironing, laundry, car detailing, janitorial. Make your own homemade DIY cleaner mister or just use with water to cool yourself.

BETTER TRIGGER DESIGN: The unique design 4-finger trigger makes your fingers rest easily on it and the bottle fit comfortably in your hand, eliminating hand fatigue; Adjustable nozzle turns easily letting you switch from spray, stream or to off; Pull trigger has a short effortless squeeze reducing finger fatigue.
Remember, Amazon prices can change at any time.
This post contains affiliate links.