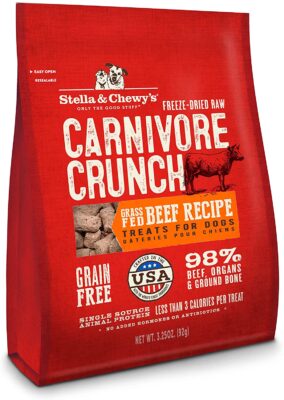 Get Stella and Chewy's Raw Toppers for 25% off today! Small batches of freeze dried treats are proudly crafted with care in Stella & Chewy's own USA kitchen. This commitment assures for great quality products and high levels of food safety. Get the Stella & Chewy'S Carnivore Crunch for only $7.49. 
Dogs naturally crave meat, much like they ate in the wild. That's why every batch of Stella & Chewy's Freeze-Dried Raw Carnivore Crunch grass-fed beef recipe starts with 98% meat, organs and bone to guarantee your pet is eating as nature intended. All ingredients are responsibly sourced.

Made in the USA – these all-natural recipes are crafted with care in small batches in Stella & Chewy's own USA kitchen to provide the highest levels of protein-rich meat and quality grain-free nutrition for your pet. Perfect as an everyday snack and training reward

Minimally processed and all-natural. Because the closer foods stay to their natural state, the better they are. That's why each of Stella & Chewy's recipes contains no added hormones, antibiotics, grains or fillers

Raw nutrition and convenience – your pet deserves to thrive on real, raw meat. Now Stella & Chewy's makes it easier than ever to give your pet real raw nutrition with the convenience of freeze-dried

Supports better health for your pet with improved appetite and digestion, relief from allergies, vibrant skin & coat, healthy teeth & gums, greater stamina & vitality and a healthy immune system
This post contains affiliate links.