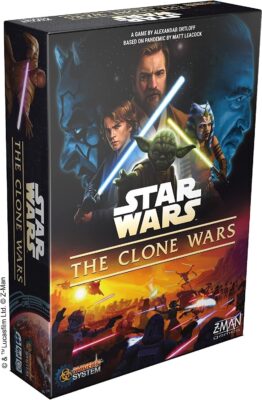 Lowest price ever on the Star Wars The Clone Wars Board Game, A Pandemic System! Click here to get it for only $30.42. That's a 49% savings!
A NEW PANDEMIC SYSTEM GAME SET IN THE STAR WARS UNIVERSE: The Grand Army of the Republic is in continuous conflict with the unending waves of Count Dooku's droid battalions. In Star Wars: The Clone Wars – A Pandemic System Game, stand together as legendary Jedi against the Sith Lord and his Separatist forces.

STRATEGY BOARD GAME: Utilize each character's unique abilities to cut down swarms of droids, complete missions across the galaxy, and use the power of the Force to battle iconic villains across four exciting scenarios.

PERFECT FOR STAR WARS FANS: Take on the roles of heroic Jedi, each with powerful and unique abilities, to battle the Separatist forces. Play through 4 different scenarios, each featuring its own main villain.

EPIC TABLE PRESENCE: Immerse yourself into the game with a large-sized board, illustrated cards, and striking miniatures that include legendary Jedi, iconic villains, and swarms of battle druids and blockade ships.

NUMBER OF PLAYERS AND AVERAGE PLAYTIME: This fun family board game can be played with 1 to 5 players and is suitable for ages 14 and older. The average playtime is 60 minutes.
Remember, Amazon prices can change at any time.
This post contains affiliate links.