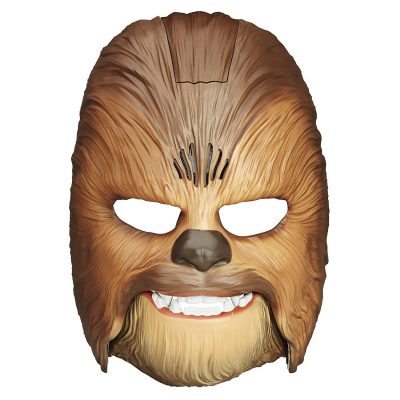 Enjoy awesome savings on all things Star Wars as Amazon's Deal of the Day! Grab your choice of Star Wars themed bedding, fleece throws, action figures, LEGOS, and other toys and games. Score this epic Star Wars Movie Roaring Chewbacca Wookiee Sounds Mask for only $19.99. 
AS HEARD IN THE STAR WARS MOVIES – Roar into intergalactic action with the roar-ready Roaring Chewbacca Wookiee Mask, with sounds inspired by the iconic Wookiee and the sounds of his roars from the Star Wars movies!

A CHEWBACCA MASK WORTH ROARING OVER! Kids can can open wide and say RAAARR like the loyal friend of Han Solo and co-pilot of the Millennium Falcon, with the Roaring Chewbacca Wookie toy mask!

AUTHENTIC WOOKIEE SOUND FX – This electronic mask is equipped with authentic Wookiee sound FX and activated by opening your mouth wide! It's easy to sound like a Star Wars character when you wear the Roaring Chewbacca Wookie mask and make the best Chewbacca noise ever. Mom's agree: Chewbacca is the greatest Wookiee ever.

AS SEEN ON SOCIAL MEDIA, TV… AND THE BIG SCREEN – This Roaring Chewbacca Wookiee mask, based on the furry hero himself, has everything but the matted fur! From the snows of Hoth to morning talk shows, Chewbacca's roar has reached intergalactic fame from a galaxy far, far away to your galaxy right at home!

LAUGH IT UP, FUZZBALL – "But Mom, I want to be a Wookiee!" Good thinking, kid. This awesome mask comes with everything you need to sound like everyone's favorite Wookie!
This post contains affiliate links.