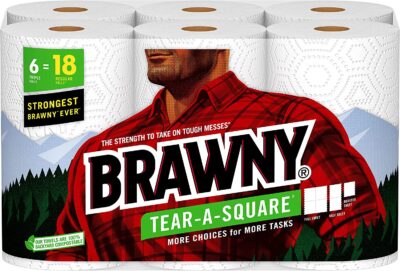 Save on Spring Cleaning Essentials From Clorox, Scrubbing Bubbles, and More!
Brawny® Tear-A-Square® Paper Towels are our strongest paper towels yet and offer the durability and dependability you've always loved with 3 different sheet sizes on every roll. Our versatile sheet size options were made to handle whatever life throws your way—from a quarter sheet to handle small spills, to a half sheet for meal prep, or a full sheet for bigger messes. Choose the right paper towel for the task and enjoy longer-lasting rolls with the powerful versatility of Brawny® Tear-A-Square® Paper Towels. Get this Brawny® Tear-A-Square® Paper Towels, 6 Triple Rolls = 18 Regular Rolls for only $16.59. 
Our strongest ever Brawny Tear-A-Square Paper Towels offer 3 sheet sizes (Quarter, Half and Full) so you get just what you need to fit the task.

Each Triple Roll has 180 2-ply sheets and is equal to 3 Brawny Regular Rolls, so you can change the roll less often.

Unique quarter-sheet option for smaller tasks so your roll can last longer.

Strong, durable and absorbent—perfect for tough messes, meal prep, daily cleanup and more.

Each pack contains 6 Triple Rolls and is equal to 18 Regular Rolls.
This post contains affiliate links.