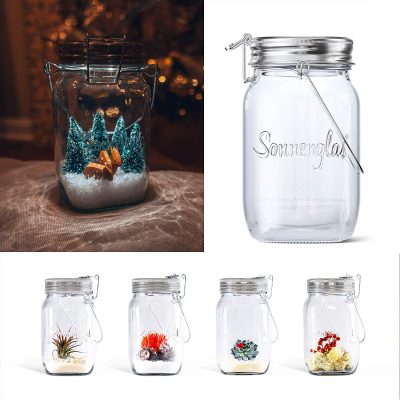 Here's a fantastic gift idea! Click here for the Sonnenglas: Original Premium Solar LED Lantern only $24.49 today. Green high-tech in a jar. Winner of several of design awards. That's SONNENGLAS. The principle is as simple as it is ingenious: SONNENGLAS SUN JAR stores energy during the day and releases light at night. Producing light in this way is fun, sustainable and makes it easy to do your bit for the environment.
No. 1 Bestseller from Amazon Germany: The Award-Winning Original Ultra Bright Glass Lantern powered by the Sun. Live sustainably.

Your OFFGRID Companion: Charges by the sun. Gives 12 hours of bright light. Perfect for reading, table deco, camping and backyard BBQs. Also as a hurricane light and during blackouts and emergencies.

Ingenious Magnetic Flip Switch: Turn SONNENGLAS On/Off in the most fun and magical way. Waterproof and long lasting. Inside and Outside use. Stainless Steel and Sturdy Glass. Comes also with USB Charging Option.

BRIGHTEN SOMEONE'S LIFE: Decorate your SONNENGLAS to your heart's desire and give light in its most beautiful and practical form.

Not Made in China: SONNENGLAS is the world's only Fair Trade certified solar lantern. Engineered in Germany and Handmade in a Social Entrepreneurship partnership in South Africa it brightens lives around the world.
This post contains affiliate links.