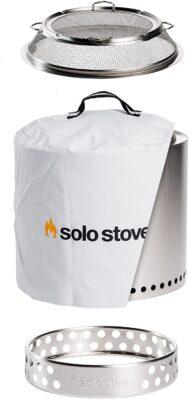 Save on Solo Firepits Today! The Solo Stove Ranger harnesses our patented design in a more compact size and travel friendly size. The Ranger sets up and starts quickly allowing you to have a no-trace fire in more places than just the backyard. The double wall design creates a burst of hot air over the fire reducing the smoke without the use of batteries and fans. By design, Ranger burns wood so efficiently you'll only be left with ultra-fine ash making clean up as simple as dumping out the spent ash. Get the Solo Stove Ranger Backyard Bundle Portable Outdoor Fire Pit Stainless Steel Firepot for Wood Burning and Low Smoke Great Fire Pits for Outside | 15×12.5 Inch Firepot Accessories for only $329.99 today!
RANGER BACKYARD BUNDLE: The world's most unique bundle to upgrade your fire pit with all the accessories you'll need to enjoy a roaring fire with peace of mind. This bundle will let you kick back, relax, and bask in the glow of a smokeless flame without worry.

RANGER SHELTER: A great companion for your fire pits for garden. The waterproof, durable Solo Stove fire pit cover makes it easy to protect your fire pits from rain and snow, saving you the time and effort of storing it indoors when not in use.

RANGER SHIELD: The durable Shield helps prevent sparks and embers from leaving your portable fire pit. Unmistakably a Solo Stove product, the clean, minimal, two-piece spark Shield provides extra peace of mind, helping prevent embers from escaping your camping stove.

RANGER STAND: This is designed to allow you to use your fire pits on more heat sensitive surfaces like wood decks. By raising up your fire pit and allowing more airflow to pass underneath, you'll be able to enjoy your camping stove in more places than ever before!

AIR FLOW DESIGN: The Ranger fire pit gets its power from logs, larger sticks or woody debris to fuel the fire while the air intake holes on the bottom pull air in towards the fuel source. While air is being pulled in, the double-wall construction allows air to be heated up and fed through the top vents providing an extra boost of pre-heated oxygen, creating a secondary combustion and a beautiful flame that your family and friends will enjoy watching!
This post contains affiliate links.