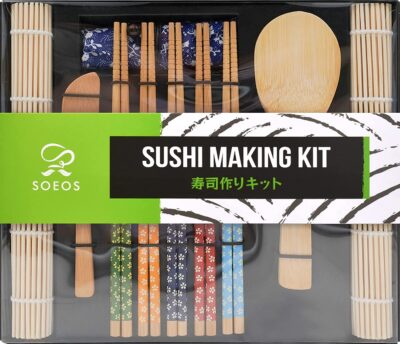 These natural bamboo tools make it simple and fun to make your own Sushi! Give it as a gift or use it to save on take out by making your own delicious Sushi creations. Click here to snag this Soeos Beginner Sushi Making Kit, 10 Piece Bamboo Sushi Kit with 2 Bamboo Rolling Mats, 5 Pairs Chopsticks, Paddle, and Spreader, All Natural, Sushi Making Kit Gift Set, Sushi Maker Kit, Sushi Maker for only $13.99.
NATURAL BAMBOO MATERIAL: Each bamboo product in the sushi making kit is constructed out of top-quality natural bamboo, durable, no chemicals or varnish, safe and healthy for your family.

ALL IN ONE SUSHI MAKING KIT: This sushi kit can provide you with everything you need to make sushi. Your kit includes 2 Rolling Mats, 5 Pairs of Chopsticks, Paddle, and Spreader. Whether you are new or professional to sushi, this kit includes everything you need.

EASY TO USE AND CLEAN: The Sushi Kit is an easy-to-use and original way to make sushi. You can clean sushi tools easily by hand washing them with warm water. You can wrap the plastic wrap in the bamboo mat for easy cleaning.

ENJOY THE FUN OF COOKING: With this sushi making kit, you can explore the creative world of sushi making with your children at home, teach them new things, and develop their hands-on skills.

Soeos takes your satisfaction as our highest priority. let us know anytime for questions and concerns, as we value your voice to make things right.
This post contains affiliate links.