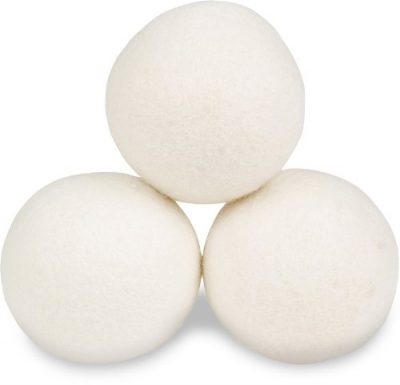 Introducing the Original 100% Premium New Zealand Wool Dryer Balls by Smart Sheep! Right now, get Smart Sheep Reusable Wool Dryer Balls, 3-Pack for only $7.49. Did you know that many dryer manufacturers recommend NOT using dryer sheets as they can harm the drying unit? Stop using unhealthy synthetic fabric softeners and dryer sheets that can harm your skin and leave a chemical residue inside your expensive dryer.
Our Premium Smart Sheep Dryer Balls are all-natural, won't harm your dryer and help soften your clothes. Made of high-quality 100% New Zealand wool, these dryer balls soften and fluff clothing, towels, sheets, blankets, jackets and more! Great for fluffing down items as well. Dryer balls keep heavy items such as jeans, blankets, sheets, and more from getting balled up and help to dry clothes more evenly.
Set of 3 Original Smart Sheep 100% Premium New Zealand Wool Dryer Balls (no fillers, don't setttle for knock-offs)

Softens Laundry Naturally— No Chemicals or Synthetics Used (great for those with sensitive skin & babies)

Shortens Drying Time (use 3-4 balls for small/med load, 5-6 for large)

Extra-Large (9 in. circumference,) Handmade, Eco-friendly, Saves Energy

Lasts for a Thousand-Plus Loads, Replaces Dryer Sheets & Liquid Fabric Softeners, Saves Money. (A healthy, petroleum-free alternative to plastic dryer steamer balls)
Remember, Amazon prices can change at any time.
This post contains affiliate links.