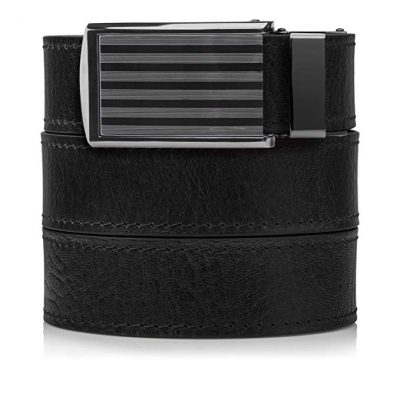 What is a SlideBelts brand ratchet belt? It's a leather belt that lets you freely adjust your belt size without the limitation of holes in the leather. In fact, there are no holes at all! A tab in the buckle catches on a row of notches sewn onto the underside of the leather, allowing for over 30 size options with 1/4″ (6.35 mm) between adjustments. All SlideBelts come with a belt strap that can be trimmed to your exact waist size. The full length of one of our straps fits a 48″ (122 cm) waist size. All buckles are completely removable and interchangeable with compatible SlideBelts products. Try SlideBelts out and see why there's no reason to poke holes in a perfectly good piece of leather. Click here to get the SlideBelts Men's Premium Top Grain Leather Ratchet Belt for only $46.50.
INCREDIBLY COMFORTABLE FIT – No holes ratchet belt means you can precisely adjust your belt to the perfect fit.

SIMPLE TO USE – Our easy to use buckle makes adjusting your belt effortless and it can be easily interchanged with our straps.

CUSTOM SIZES – Say farewell to "in-between" sizes. Quickly and easily trim down the strap to your exact waist size.

STYLISH TOP GRAIN LEATHER – Our distinctive buckle and our designer-grade top grain leather provide the finishing touch to your dress attire and business casual outfits.

SIZING – Each belt fits up to a 48″ waist. Leather straps are 1-1/4″ wide. Classic buckles are 1-5/8″ wide x 3-1/2″ long.
This post contains affiliate links.