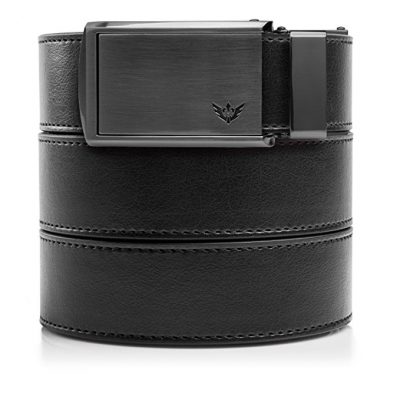 Today only, get the SlideBelts Men's Golf Ratchet Belt – Custom Fit for only $28.50. Just because we have a nifty buckle doesn't mean we're willing to let style go by the wayside. For the 8 years that we've sold belts without holes, we've been constantly improving our buckle to create a clean, minimalist look without the ugly lever and bulky mechanism of a normal ratchet belt. We want your belt to look good, feel good, and be easy and intuitive to use.
INCREDIBLY COMFORTABLE FIT – No holes ratchet belt means you can precisely adjust your belt to the perfect fit.

SIMPLE TO USE – Our easy to use buckle makes adjusting your belt effortless and it can be easily interchanged with our straps.

CUSTOM SIZES – Say farewell to "in-between" sizes. Quickly and easily trim down the strap to your exact waist size.

STYLISH VEGAN LEATHER – Our distinctive buckle and our high quality animal-friendly leather provide the finishing touch to your outfit.

SIZING – Each belt fits up to a 48″ waist. Straps are 1-1/4″ wide. Buckles are 1-5/8″ wide x 3-1/2″ long.
This post contains affiliate links.