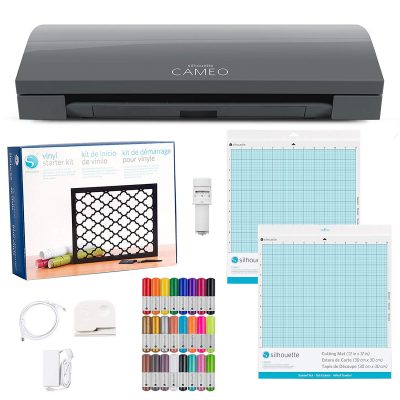 Today's deal is a crafter's dream! The Silhouette CAMEO 3 is the ultimate DIY machine. It uses a small blade to cut over 100 materials, including paper, cardstock, vinyl, and fabric up to 12 in. wide. The CAMEO has the ability to register and cut printed materials and is PixScan compatible. The Silhouette CAMEO 3 machine has a large cutting space and is most versatile in the materials it can cut. The Silhouette CAMEO 3 is your standard in electronic Cutting. Like a home printer, it connects to your pc, mac, iPad, iphone or Android device wirelessly or connect using the included USB cable. Click here for the Silhouette Slate Grey Cameo 3 Craft Bundle, only $199.99 today. 
Cuts a variety of material including vinyl, paper, cardstock, fabric, and other materials up to 12 inches wide and 10 feet long with 2mm clearance

Use the powerful Silhouette Studio design software to create your projects

Features Bluetooth technology for wireless cutting or plugs into your home computer

The only Silhouette compatible with the self-adjusting autoblade

Blade and other storage compartments keep all the extra blades and tools in one easy to access storage compartment.

Bundle includes: (1) Slate Grey CAMEO 3 Cutting Machine (1) Silhouette Studio Software (1) Power Cable and USB Cable (2) 12-Inch Cutting Mats (1) Autoblade Cutting Blade (24) Sketch Pens (1) Vinyl Starter Pack

Note: The cameo machine no longer comes with a CD, but instead a card with a link to what used to be on the CD.
This post contains affiliate links.