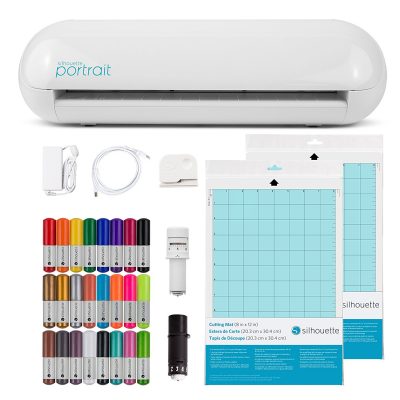 Here's an amazing bargain for any crafter or wanna-be crafter! Today only, get the Silhouette Portrait 2 Starter Bundle for only $139.99. That's a savings of $130. Add this easy-to-use cutting machine to your craft room to precisely cut paper, vinyl, fabric, and more. Connect the machine to your computer through a USB cable or Bluetooth, and use its AutoBlade to cut a variety of materials up to 10 feet long. The Silhouette Portrait 2 Starter Bundle is a great addition to your craft room and will help you achieve all your crafting goals!
The Silhouette Portrait is an electronic cutting machine for personal use.

The Silhouette Portrait 2 features Bluetooth technology (US, Canada, EU only) and is compatible with Silhouette's new AutoBlade.

The machine also has the ability to register and cut printed materials.

Cuts vinyl, heat transfer material, cardstock, photo paper, copy paper, rhinestone template material, fabric, and more

Like a home printer, it plugs into your PC or Mac® with a simple USB cable. However, instead of printing, it uses a small blade to cut paper, cardstock, vinyl, fabric, and other material up to 8 inches wide and 10 feet long.

PixScan compatible.

Measures 16″ x 5-1/2″ x 4-1/4″; weighs 3 lbs, 8 oz

Includes Silhouette Portrait 2 Cutting Machine with power cable, USB cable, Bluetooth adapter, 2 of the 8″ cutting mat, AutoBlade, Ratchet blade, 50 digital cuttable designs, 24 pack sketch pens, Silhouette Studio Software, and One-month free subscription to the Silhouette Design Store.
This post contains affiliate links.