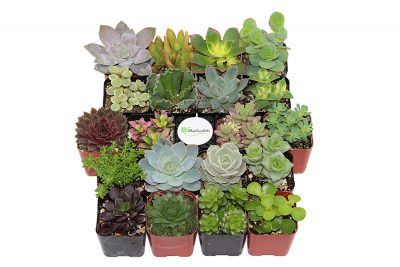 This is such a fun gift idea – right now you can get a collection of 20 unique succulents from Shop Succulents for only $27.99! This usually goes for $39.99, so this is a fantastic deal. Smaller packs are also available (although I love the abundance of a 20 pack).
Each succulent in the Unique Collection is a different variety. Plants may vary from pictures shown as succulents are selected based on season, size, health, and readiness

Succulents come in 2 inch square pots fully rooted in soil. Plant measurement will vary as different species grow in different ways: for example, some grow wider, shorter, taller, trailing etc.

All succulent packs are carefully packed in Shop Succulents retail packaging making these easy to gift

All Shop Succulents plants come with helpful care instructions in every pack

Succulents are drought tolerant plants, needing little water to thrive
 This post contains affiliate links.