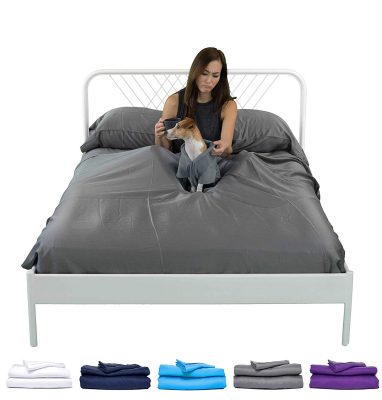 Based in Denver, S&G makes absurdly soft, sustainable lyocell bedding out of eucalyptus trees. Our sheets, duvet covers, and pillowcases are naturally softer, more breathable, and more moisture-wicking than cotton. Plus, because we don't work with physical retailers, our prices are about 20-40% lower than the comparable high-quality eucalyptus options at your local bedding retailer. We can't name that retailer for legal reasons, but they may or may not also sell shower caddies. Today only, get the Sheets & Giggles Eucalyptus Lyocell Sheet Set in Queen size for $103.43. Other sizes are also discounted!
Sheets & Giggles is Bedder Bedding. Our absurdly soft sheets are sewn from 100% Eucalyptus Lyocell made from trees grown on sustainably managed plantations. They're naturally softer, more breathable, and more moisture-wicking than cotton bed sheets – plus, they're hypoallergenic, zero static, and self-cooling. Fun fact: S&G's sheets actually get even softer after every wash, and they make a sheety gift, too.

S&G's Queen sheet set includes 1 Queen flat sheet, 1 Queen fitted sheet, and 2 Queen pillowcases.

Our fitted sheets have extra deep pockets – like questioning-your-existence deep – so our corners easily and securely fit mattresses up to 20″ thick. Our flat sheets are also 4″ longer than industry average, and we all know a few extra inches make all the difference.

Our corgi-puppy-smooth sateen weave with a 400-thread-count feels softer than higher thread count cotton sheets, while maintaining better breathability. These are literally the best sheets possible for hot sleepers – night sweats are the worst.

Eco-friendly with nearly zero waste, and with zero pesticides or insecticides used (cotton uses up to ~16-24% of the world's insecticides). If you've thought about organic cotton sheets because you want chemical-free sheets, we've got you covered (literally). Our sheets also biodegrade nearly twice as quickly as cotton, though we hope you donate old sheets via our #Give2Sheets program instead of throwing them away.
This post contains affiliate links.