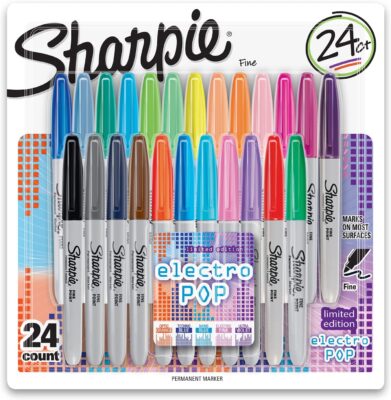 Dull and boring fades away – but bold and brave lives on. That's the motto of Sharpie Permanent Markers. Made to write on, stand out on, and stay on practically any surface, it's the Original Permanent Marker born for unique, unruly, courageous, outrageous self-expression that always leaves a bold mark. Get this SHARPIE Electro Pop Permanent Markers, Fine Point, Assorted Colors, 24 Count for only $15.43.
Proudly permanent ink marks on paper, plastic, metal, and most other surfaces

Intensely brilliant colors create eye-popping, vibrant impressions

Remarkably resilient ink dries quickly and resists fading and water; AP certified

Endlessly versatile fine tip makes impressively bold, detailed marks

Includes 24 markers in assorted Electro Pop and Classic colors
This post contains affiliate links.