There's nothing like that feeling of grabbing your passport and jetting off on a romantic getaway with your partner. Snuggling up together on the flight and then touching down in new lands is what makes all that hard work worthwhile, so here's a selection of the dreamiest destinations you can enjoy together. International travel may not be as cheap as domestic trips, but we know you're savvy enough to stay on budget. And we've sprinkled our budget travel tips below.
6 amazing getaway destinations for your bucket list
Chiang Mai, Thailand
For something a little different, and a world away from your average package holidays, Chiang Mai in Northern Thailand is a haven for the adventurous couple. Explore the winding backstreets of the picturesque old-town and play it cool at any one of the trendy coffee shops dotted throughout the city. You'll also want to visit Fah Lanna Spa for a dose of complete luxury and an ultra-relaxing Thai massage for two.
Brandon's Bay, Barbados
Brandon's Bay is on the outskirts of Bridgetown in Barbados is a magnificent spot to walk hand-in-hand along the soft beaches or bathe together in the turquoise Barbadian sea. For true romance, what better way is there to explore the coast than on horseback? Brighton Riding Stables is not far from the beach, just be sure to make a booking beforehand.
TIP=> Use FareCompare to see where you can go on your budget.
Trinidad, Cuba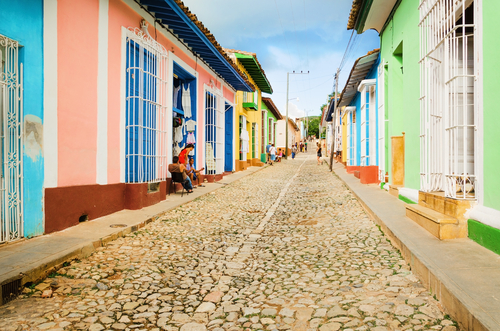 As a UNESCO World Heritage Site, the town of Trinidad is a true slice of authentic Cuba. The carefully preserved town is packed with magnificent Spanish architecture for you to explore, and is nestled between the coastline and the Sierra del Escambray mountains, offering you a plethora of ways to fill your days together.
TIP=> Hire a local tour guide for big savings.
Grand Baie, Mauritius
Grand Baie is a lively and varied area on the north of the mainland with plenty of activities to enjoy such as water sports and tandem sky-diving. In the evenings, take your loved one for a romantic dinner and cocktails at Le Capitaine seafood restaurant, which offers stunning ocean-views and a spectacular menu.
Punta Cana, Dominican Republic
An ideal place to head is the Sivory Punta Cana – a hotel on the quieter end of Punta Cana. Here you can enjoy a luxurious suite which features its own private Jacuzzi, made especially for two.
It's perfect for an intimate vacation for you and your special one.
Cocoa Island by COMO, Maldives
The magnificent archipelago of the Maldives is made up of over 1,000 islands, one of which, Cocoa Island is a private resort encircled with powder-white sand, perfect for the two of you get away from the stresses of everyday life  This stylish paradise offers yoga, holistic treatments and secluded areas for couples to escape to after dinner.
One of the romance capitals of Europe, Venice beckons every couple at some point, so why not give into your desires and head to this Italian masterpiece. Take a traditional gondola along the Grand Canal then coffee for two at the beautiful 18th century inspired café, Caffè Florian, in piazza San Marco.
For an unforgettable couple's getaway, these destinations offer everything you need.
What country do you want to visit?