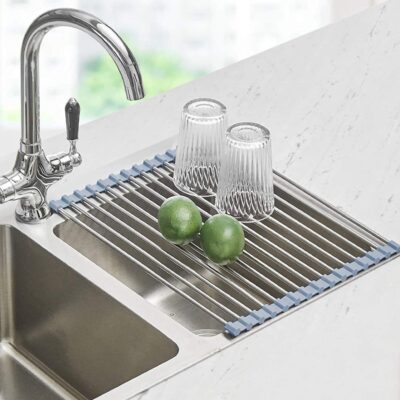 This folding sink dish drying rack not only can be used as a dish drainer for air-drying kitchenware, such as washed bowls, pans, glasses, cups, plates, cookware, cutlery, saucepan, mugs; but also as a vegetable colander for fruit and veggie wash; or as a non-slip trivet mat for hot pots or bakeware on countertop. This dish drying mat can also be used as a kitchen sink caddy, sink cover, camping sink mat, sponge holder, fruit hammock, over the sink colander, kitchen sink organizer and RV storage. Click here for the Seropy Roll Up Dish Drying Rack, Over The Sink Dish Drying Rack Kitchen Rolling Dish Drainer, Foldable Sink Rack Mat Stainless Steel Wire Dish Drying Rack for Kitchen Sink Counter (17.5"x11.8"), only $9.99.
OVER THE SINK DRYING RACK : We have 5 different sizes for your option: 17.5(L) x 11.8(W) , 17.5(L) x 15.7(W), 17(L) x 13.7(W) , 20.5(L) x 13.7(W),17(L) x 11.8(W). Suitable for most kitchen sinks and counter. This item is 17.5(L) x 11.8(W) inch fits sink not wider than 16.8″. Please check your sink measurements and choose the right size before purchasing the roll up dish drying rack over sink! A great addition to kitchen accessories and apartment necessities. Great kitchen gadgets for a tidy kitchen and cozy home.

HIGH QUALITY : Made of 304 Stainless Steel with durable construction, the collapsible cutting board over sink is sturdy, rust resistant,non-slip, waterproof; support up to 33lbs, not easy to bend or twist by heavy cookware. A great portable stainless steel rolling rack for apartment essentials and home accessories.

SPACE SAVING : The rollable kitchen drying rack is designed with 15 stainless steel tubes, fixed firmly by silicone, which makes it easy to use, lay flat, clean or put away for storing in cabinet when not in use, saving your counter space. This dish drying rack over the sink adjustable design frees up much counter space then traditional dish drainer. Perfect for house organization and storage. Great gifts for your parents, families, friends and perfect house warming gifts for new home.

FOOD SAFE AND HEAT RESISTANT : The dish draining rack with food safe grade silicone coated is heat resistant up to 400°F (204°C), BPA-free, dishwasher safe. As a perfect trivet for cooling down hot pans from oven or stovetop, or thawing frozen articles from refrigerator. Satisfaction guarantee and 2-year warranty. Any issue with this drying rack for sink organizers and storage, please contact us FIRST on order detail page before any return.
This post contains affiliate links. 
Remember, Amazon prices can change at any time.