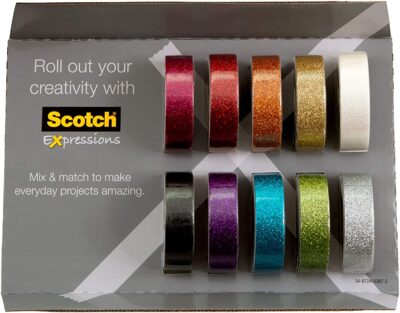 The Scotch Brand makes decorative tape in over 200 colors and patterns to meet the needs of any project. So whether you are looking to add some sparkle to paper crafts, throw in a creative flourish to your gift wrapping, or just needing a classroom classic to accent assignments — Scotch Expressions Tapes have what you need to make it all happen. Click here for Scotch Brand Scotch Expressions Glitter Washi Tape, Great for Bullet Journaling and DIY Décor, 10-Pack, only $13.72.
JOURNALING WITH STYLE Let's face it: getting organized is only fun if you get to use fun supplies and really express yourself. Scotch Washi Tape is perfect for organizing journals, planners, notebooks and more

EXPRESS YOURSELF You're always looking for new ways to organize, personalize and decorate your home. The best part–its initially repositionable on most surfaces and incredibly easy to work with!

THAT SPECIAL TOUCH Gift-giving, crafting and organization is not the one-size-fits-all experience it used to be. It's all about the little personal touches, Scotch Washi Tape is exactly what you need to have on-hand

ENDLESS DIY Scotch Washi Tape is the perfect supply for any DIY toolkit–keep it on hand when inspiration strikes! Scotch Washi Tape is always ready to make your inspiration a reality!

Tips for use: At Scotch, we are the tape experts, so we have worked hard to make sure your washi tape will stick just right every time. For the best stick, try to avoid touching the sticky side of the tape before placing on your surface
Remember, Amazon prices can change at any time.
This post contains affiliate links.