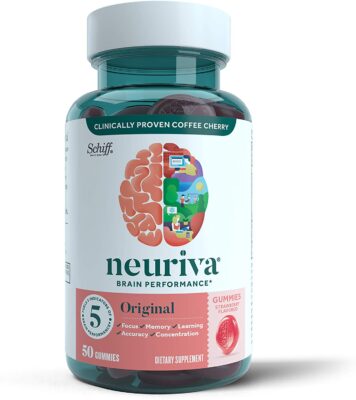 Score up to 40% off Neuriva Brain Support Supplements today! OK, first things first, our secret ingredient isn't coffee. It's a botanical extract derived from the coffee cherry – the skin and rind of the hand-picked fruit. This extract is GMO-free, decaffeinated, and it's been shown to have incredible brain-supporting properties. We call it Neurofactor. We've studied this amazing superfruit and proven that it elevates the body's levels of the neuroprotein BDNF. BDNF is a vital neuroprotein that is known to strengthen connections between brain cells and help new connections flourish.* Click here for this Nootropic Brain Support Supplement – NEURIVA Original Strawberry Gummies (50 count in a bottle) Phosphatidylserine, Gluten Free, Vegetarian – Supports Focus, Memory, Learning, Accuracy & Concentration, only $18.05!
Fuels 5 indicators of brain performance: The ingredients of Neuriva Fuel 5 indicators of brain performance: focus, memory, learning, accuracy and concentration.

Clinically proven naturally sourced ingredients: Made with clinically proven naturally sourced ingredients to fuel 5 indicators of brain performance. Bonus: These gummies come in a great tasting strawberry flavor

Neuroeffector, a powerful extract: made from the nutrient-rich fruit of the coffee cherry, this whole fruit extract is decaffeinated and clinically proven to increase levels of the vital protein BDNF

Phosphatidylserine for memory & learning: 60% of our brain's weight is in lipids. Lipids are essential for proper brain function and our sharp PS green is a phospholipid that supports memory & learning.

Naturally Sourced ingredients: Neuriva is decaffeinated, vegetarian, naturally flavored and gluten free

During the summer months products may arrive warm but Amazon stores and ships products in accordance with manufacturers' recommendations, when provided.
This post contains affiliate links.